After showing his Sheffield steel at an incredible show in Dublin's Iveagh Gardens in 2016, Richard Hawley will be celebrating his twentieth anniversary as a solo artist at the Olympia Theatre this September.
The one-time guitarist for Pulp releases his ninth studio album, Further, on May 31, and has also opened a musical based on a collection of his songs in his hometown of Sheffield.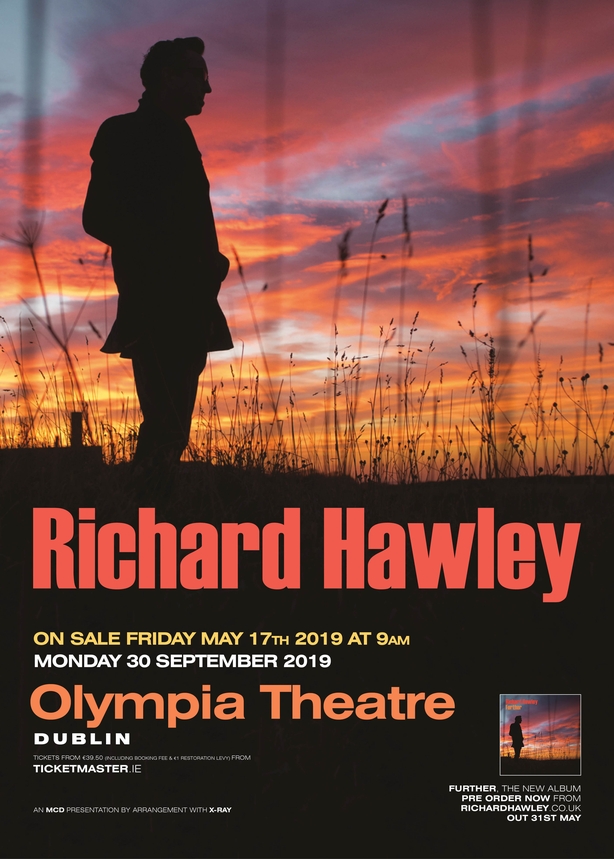 Speaking about his twentieth year as a solo artist, during which time he has released a series of hugely acclaimed albums, 52-year-old Hawley said, "I suppose twenty years is quite a long time in this business, but, to be honest, even after all this time, I'm still a searcher.
"I'm still genuinely searching for things, in music and in life. I can't tell you exactly what I'm looking for, or where I'm actually going but when I get there, I'll probably send you a text."
Over the years, Hawley has worked with Arctic Monkeys, Manic Street Preachers, Elbow and Paul Weller, alongside personal heroes that include US guitarist Duane Eddy (his 2011 album, Road Trip, was co-produced by Richard), Shirley Bassey (for whom he wrote the ballad, After The Rain, in 2009), Nancy Sinatra, and Lisa Marie Presley.
His song Tonight The Streets Are Ours was featured in The Simpsons and Exit Through The Gift Shop: A Banksy Film.
Tickets priced from €39.50 for the Olympia gig on September 30 go on sale this Friday at 9.00am.
In other gig news, Yola, who recently played a very well-received show in Dublin's Academy venue, will return to Ireland for a gig at Dublin's Olympia Theatre on December 1, with tickets also on sale this Friday, May 17 at 9.00pm.
Yola talks to RTÉ Entertainment