Killing Eve was the big winner at the BAFTA TV awards, taking home the awards for best drama, best actress, and best supporting actress.
The show led the nominations on the night, taking home several of the biggest awards available, including beating Bodyguard for best drama.
Creator Phoebe Waller-Bridge exclaimed "F***" on stage, and praised her "charismatic, breathtaking, energetic team," after winning the award.
She said: "I can't speak it's so unbelievably exciting", and praised author Luke Jennings, whose books were the basis for the drama.
#PhoebeWallerBridge thanks all the cast & crew of @KillingEve "for taking massive risks", as they pick up the Award for Drama Series 🙌🌟🏆 #BAFTATV pic.twitter.com/pEdlIUuHfZ

— BAFTA (@BAFTA) May 12, 2019
She added: "Thanks for everyone for taking risks. Jodie Comer almost swallowed a wasp in Tuscany. It was a really edgy moment that we did capture on camera".
The show also saw Jodie Comer take home the gong for best lead actress.
Comer was in tears after she beat co-star Sandra Oh to the award.
A HUGE congratulations to the wonderful @jodiecomer who picked up the BAFTA for Leading Actress for her role in Killing Eve, dedicating the award to her Nana ✨🥇🙌 #BAFTATV pic.twitter.com/ydd15JWJWJ

— BAFTA (@BAFTA) May 12, 2019
"Thank you so much," she said. "Sorry I'm the only one who's turned on the waterworks."
Paying tribute to Phoebe Waller-Bridge, she said: "Phoebe, I feel so lucky to say I worked with you, also to call you a friend.
The darkly comic crime drama also saw a win for Irish actress Fiona Shaw, who won the best supporting actress award for her role as Carolyn Martens in the show.
Fiona Shaw seems pretty pleased with her BAFTA for Supporting Actress ☺️✨ #BAFTATV @KillingEve pic.twitter.com/shAHVquNWc

— BAFTA (@BAFTA) May 12, 2019
There was disappointment for the cast and crew of Derry Girls, which was nominated in the best scripted comedy category, but saw the award go to Sally4ever.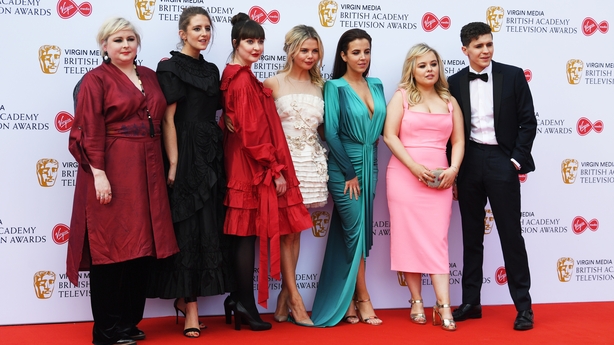 Meanwhile, Benedict Cumberbatch earned his first BAFTA win, taking home the award for leading actor for his role as Patrick Melrose in the Sky Atlantic drama of the same name.
The actor told the audience: "Oh gosh, I think I'm going to fall over, I'm very used to being a bridesmaid not the bride.
Benedict Cumberbatch is jumping for joy over his #BAFTATV Award win 😊🙌 pic.twitter.com/mr1l3j0RIi

— BAFTA (@BAFTA) May 12, 2019
"I'll keep it short because everyone probably does need to go to the bathroom.
"We all stand on one man's shoulders, the man who wrote the five novels who this is based on, Edward St Aubyn, thank you for your wit, your courage."
Ben Whishaw won best supporting actor for his role as Norman Scott in A Very English Scandal.
He was unable to attend the ceremony, with the award collected on his behalf by director Stephen Frears.
Bodyguard won the only award voted for by viewers – 'Virgin Media's must-see moment'.
It claimed the prize for the death of Julia Montague (Keeley Hawes) in an explosion in the BBC One drama.
Creator Jed Mercurio and co-star Richard Madden were not at the ceremony.
The award for best Mini-Series went to Patrick Melrose.
Female performance in a comedy programme was won by Jessica Hynes for her role in BBC Four series There She Goes, while Steve Pemberton won the corresponding male award for his role in Inside No. 9.
The Winners:
Best Drama Series:
Killing Eve
Four big-hitters in the Drama Series category, but it's @KillingEve that takes home the BAFTA🏆 🎭 #BAFTATV pic.twitter.com/YegargyH3k

— BAFTA (@BAFTA) May 12, 2019
Best Actor:
Benedict Cumberbatch in Patrick Melrose
Best Actress:
Jodie Comer in Killing Eve
Best Supporting Actor:
Ben Whishaw for A Very English Scandal
Best Supporting Actress:
Fiona Shaw for Killing Eve
Best Scripted Comedy:
Sally4ever
Sally4Ever wins for Scripted Comedy 📃😂 #BAFTATV pic.twitter.com/rWIxRjnMk0

— BAFTA (@BAFTA) May 12, 2019
Best Male Comedy Performance:
Steve Pemberton for Inside No. 9
Best Female Comedy Performance:
Jessica Hynes for There She Goes
Best Mini Series:
Patrick Melrose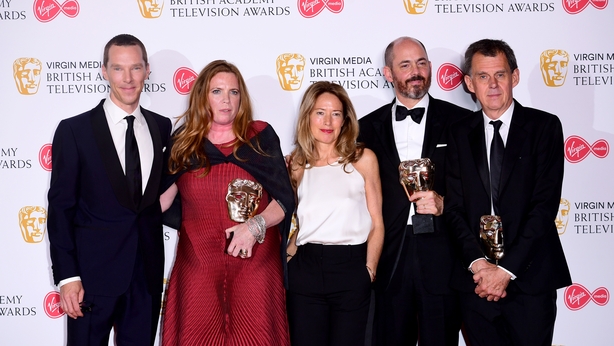 Best Soap and Continuing Drama:
Eastenders
Congratulation to EastEnders, winners of the hotly contested Soap & Continuing Drama award 📺🎭 #BAFTATV pic.twitter.com/5eZIZHMlYh

— BAFTA (@BAFTA) May 12, 2019
Best Entertainment Programme:
Britain's Got Talent
Must See Moment of the Year:
Bodyguard
Best Entertainment Performance:
Lee Mack in Would I Lie To You?
Best Factual Series or Strand:
Louis Theroux's Altered States