Line of Duty has revealed that actress Anna Maxwell Martin is to play "a woman on a mission" in the final two episodes of the current series of the BBC One police thriller.
Warning: spoiler alert!
The Bleak House star has been cast in the "major role" of Detective Chief Superintendent Patricia Carmichael and will make her Line of Duty debut on BBC One on Sunday at 9:00pm.
Carmichael is "a senior anti-corruption detective brought in from outside of AC-12". 
BAFTA winner Maxwell Martin said she was pleased to no longer have to keep her role a secret. 
"I feel honoured to follow in the footsteps of the host of great actors who make up the Line of Duty family, and [writer-creator] Jed Mercurio - of course - has written a brilliant character in Carmichael. She's a woman on a mission."
Speaking on The Late Late Show on RTÉ One last Friday, Line of Duty star Adrian Dunbar ramped up the mystery about the identity of the villain in the current series.
We need your consent to load this rte-player contentWe use rte-player to manage extra content that can set cookies on your device and collect data about your activity. Please review their details and accept them to load the content.Manage Preferences
Fans of the show have been struggling this season with the theory that the villain, known only as 'H', could be Dunbar's character, Superintendent Ted Hastings, the senior investigating officer of anti-corruption squad AC-12.
"This season of Line of Duty is brought to you by the letter 'H'," said host Ryan Tubridy. "If you're not watching, the big bad baddie that no-one knows who he is - obviously, that's the mystery - is only known as 'H'. And you're Ted Hastings, so are we to take anything from the 'hhh'?"
"Of course you are," Dunbar replied. "There's a lot of h's as we say in the North. There's a lot of h's in Line of Duty and we've been knocking them off one by one. And in fact we don't really know... I don't know who 'H' is."
"Come on!" said Tubridy.
"No, I can't say," continued Dunbar. "You know, I can't say anything - that's what the show is like. No spoilers."
"You can't say it, but you do know it," pressed Tubridy.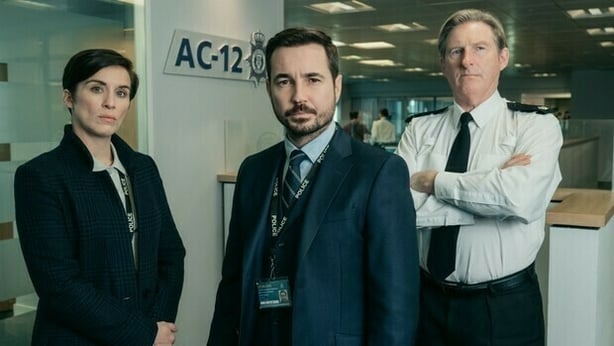 "Do I, Ryan?" smiled the Fermanagh actor. "Ryan, I'm not sure whether I do..."
"You've gone from 'I don't know' to 'I'm not sure'," said Tubridy.    
"Well, you know, this is what the show's like," Dunbar explained. "If I did tell you I'd have to kill you..."
"I better stop that line of questioning anyway!" laughed the presenter.