Line of Duty star Adrian Dunbar used his time on Friday's Late Late Show to ramp up the mystery about the identity of the villain in the current series.
Warning: spoiler alert!
Fans of the show have been struggling this season with the theory that the villain, known only as 'H', could be Dunbar's character, Superintendent Ted Hastings, the senior investigating officer of anti-corruption squad AC-12.
"This season of Line of Duty is brought to you by the letter 'H'," said host Ryan Tubridy. "If you're not watching, the big bad baddie that no-one knows who he is - obviously, that's the mystery - is only known as 'H'. And you're Ted Hastings, so are we to take anything from the 'hhh'?"
"Of course you are," Dunbar replied. "There's a lot of h's as we say in the North. There's a lot of h's in Line of Duty and we've been knocking them off one by one. And in fact we don't really know... I don't know who 'H' is."
"Come on!" said Tubridy.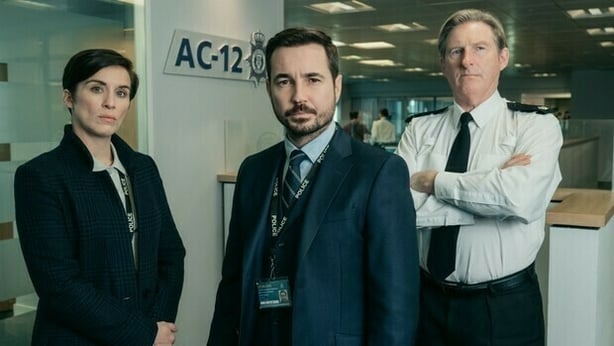 "No, I can't say," continued Dunbar. "You know, I can't say anything - that's what the show is like. No spoilers."
"You can't say it, but you do know it," pressed Tubridy.
"Do I, Ryan?" smiled the Fermanagh actor. "Ryan, I'm not sure whether I do..."
"You've gone from 'I don't know' to 'I'm not sure'," said Tubridy.    
"Well, you know, this is what the show's like," Dunbar explained. "If I did tell you I'd have to kill you..."
"I better stop that line of questioning anyway!" laughed the presenter.
Watch interview in full on the RTÉ Player.
Hastings calls team meeting ✅
Hastings shares his doubts ✅
Hastings mentions 'best team' ✅
Hastings delivers quality Ted-ism ✅ #LineOfDuty pic.twitter.com/aOd3sjXM59

— Line of Duty (@Line_of_duty) April 18, 2019
Dunbar also told Tubridy he feels "lucky" to still be alive as a character in Line of Duty, given the body count in the series.
"The scripts arrive in; we shoot them in two blocks," he said. "So you get the first three scripts, and sometimes you only get one or two scripts. Usually Vicky [McClure, co-star] is the first person to read the scripts and she'll ring up and she'll go, 'Oh my God! You should see what happens to you in episode two!' So immediately [pretending to flick through pages] you'll be looking for it!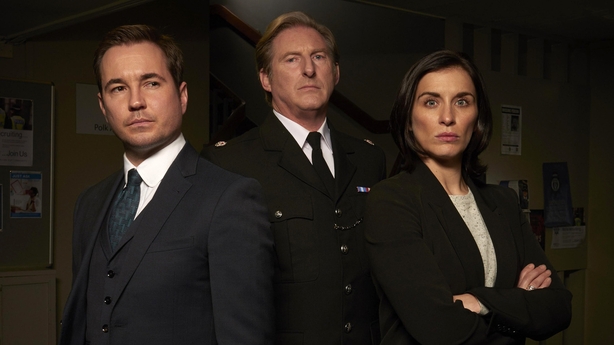 "But, of course, that is the problem. I hadn't done a returning series before so I didn't know the problem of worrying whether the writer would decide, 'Oh, we don't kind of need him'. And don't forget: Jed Mercurio [Line of Duty creator] has written off a lot of really brilliant actors in one episode, never mind two or three episodes! 
"But we've been lucky, I think - myself and Vicky and Martin [Compston, co-star] have kind of held it together as the core three. But don't forget: the format of our show is different in so far as we have a lead who comes in. We don't have a guest lead; we have somebody we hand the whole show to when they come in like Thandie Newton or Keeley Hawes or Lennie James. It's a different kind of show in that respect." 
Dunbar described being part of Line of Duty as "great".
"At my age and infirmities, as they say," he continued. "And then you end up getting a returning series later on in your career... It's great, it really is."    
Line of Duty continues on BBC One on Sunday nights at 9:00pm.