Derry Girls star Saoirse-Monica Jackson has said she is scarred for life after her mother breathalysed her outside a disco as a teenager.
The 25-year-old was the subject of The Sunday Times magazine's A Life in the Day interview this week and shared her own teenage adventures with journalist Lucy Holden.
"I was never intentionally naughty, but I always seemed to find myself in trouble or being told off for answering back," she recounted.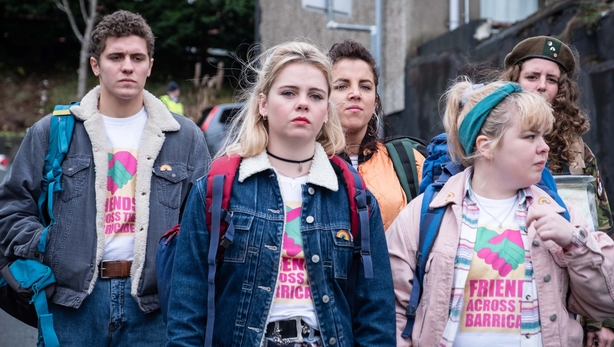 "At home, I wanted my parents to realise I was so mature for my age that it was no problem for me to go to a Kanye West gig on my own in Belfast.
"My friends and I - the original Derry Girls - used to sneak out to bars all the time, but my parents would always find me, hand me a tracksuit and a jumper and just drag me out," Jackson continued.
"My ma once breathalysed me outside a disco, which scarred me for life. It was a constant battle, which I'm now forever grateful for."
Reflecting on playing Erin in the hit sitcom, Jackson said: "It felt very special to play a 15-year-old in Derry Girls and throw myself back to that carefree, confident sense of hope.
"When you're a teenager, you're experimenting with who you want to be, and as you get older you feel more pressurised, feel expectations, life comes into play.
"Sometimes I feel I'd still like to be excused like a teenager."
Jackson concluded by revealing that her mother was an extra in the first series of Derry Girls.
"But she was terrible," she said. "I had to keep shouting, 'Mam, why are you looking at me?' She couldn't take her eyes off me or the camera; she may as well have been a bird in the background when the episode came out."
It was recently announced that Derry Girls will be back for a third season.
That might be the end for series 2 of #DerryGirls, but don't worry it will be returning for series 3! @LisaMMcGee @SaoirseJackson @nicolacoughlan @louisa_harland @JamieLeeOD @Djllewellyn 🎉🎉🎉⁣ pic.twitter.com/yhyOaCIIQh

— Channel 4 (@Channel4) April 9, 2019