Oscar-winning writer and director Neil Jordan has revealed that he was forced to sleep rough in a park opposite Euston Station in London when he spent a summer in the city, saying "I had nowhere to go".
"You suddenly become invisible" Neil Jordan on becoming homeless for a time #LateLate pic.twitter.com/9SZURUuhXf

— The Late Late Show (@RTELateLateShow) April 12, 2019
Speaking on Friday night's Late Late Show, he said: "You end up invisible, you end up in an environment so shocking, the last people you will tell are your family. I'm glad I went through it for two months. But people don't fully understand homelessness.
"The shame of homelessness sticks to you like grime on your skin. You don't look right, don't smell right. You're ashamed that you've fallen through the cracks. For me the most prevalent sense was shame." he added. 
The director's new movie Greta, an Irish-American psychological thriller, which he co-wrote with Ray Wright, is due for release. He refers to it as a stalking film. In this case an older woman is the stalker.
We need your consent to load this YouTube contentWe use YouTube to manage extra content that can set cookies on your device and collect data about your activity. Please review their details and accept them to load the content.Manage Preferences
In the film, a young woman called Frances finds a handbag on the New York subway and promptly returns it to Greta, an eccentric French piano teacher.
Having recently lost her mother, Frances strikes up a seemingly harmless friendship with the lonely and kindly widow, who enjoys her company.
But when Greta's behavior becomes increasingly erratic and obsessive, Frances does whatever it takes to end the toxic relationship before things spiral out of control.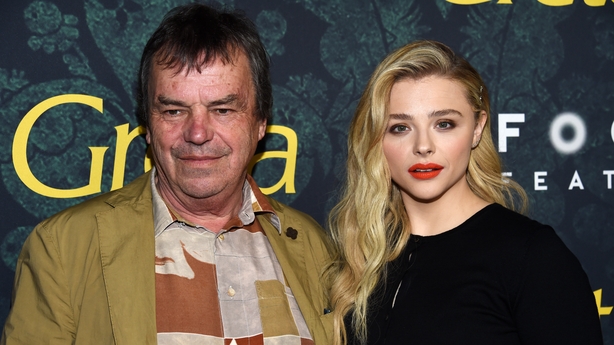 Tune in to tonight's @RTELateLateShow  to catch Neil Jordan chat about his up-coming film #GRETA before it hits cinemas Thursday. pic.twitter.com/W7bcIajyGo

— Universal PicturesIE (@Universal_Irl) April 12, 2019
When asked about his future plans, Jordan said: "I keep thinking I should stop and something comes up. At the moment I am working on a script called Jerusalem.
"I look for something that I havent done before a challenge, I wrote a book called Ground Detective and have written a script for it."
"Its easier to get €200m for a movie than a small budget film." he added
Greta is released on Friday April 19 at cinemas nationwide.