The criminal charges against Empire star Jussie Smollett for allegedly staging an assault on himself have been dropped following what prosecutors in the US city of Chicago have described as "a just disposition and appropriate resolution to this case".
The actor had been facing disorderly conduct charges for allegedly staging a hoax attack and claiming he was the victim of a hate crime. He denied all the charges against him.
The 36-year-old had claimed he was the victim of a brutal assault in Chicago in January. Smollett told police in January that he was attacked by two masked men as he was walking home. He said the attackers shouted out racial and homophobic slurs towards him, poured a chemical substance on him and wrapped a rope around his neck.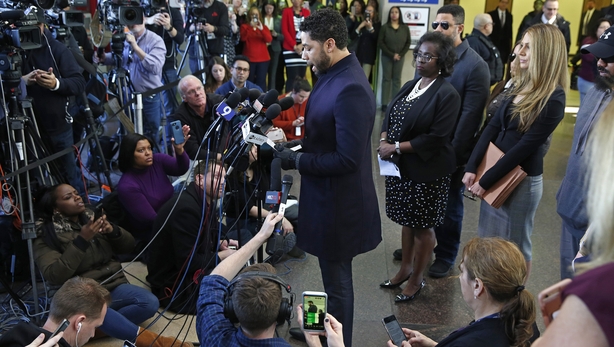 On Tuesday (March 26), the Cook County State's Attorney's Office dropped the criminal charges against the actor - a move that has angered the city's police chief and mayor.
A statement from the office of the Cook County State Attorney said, "After reviewing all of the facts and circumstances of the case, including Mr Smollett's volunteer service in the community and agreement to forfeit his bond to the City of Chicago, we believe this outcome is a just disposition and appropriate resolution to this case."
Smollett had been released on a bond of $100,000 in February. A bond of that amount usually requires only 10 per cent to be paid in cash, so it is expected Smollett will forfeit $10,000.
Smollett's legal team said in a statement: "Today, all criminal charges against Jussie Smollett were dropped and his record has been wiped clean of the filing of this tragic complaint against him.
"Jussie was attacked by two people he was unable to identify on January 29th."
Speaking to reporters following the announcement, Smollett said: "I've been truthful and consistent since day one."
He told the media he would "like nothing more than to get back to work and move on with my life". 
"But make no mistake, I will always continue to fight for the justice, equality and betterment of marginalised people everywhere," he added.
Chicago Police Superintendent Eddie Johnson said he continued to stand behind his officers and the department's investigation.
"If he wanted to clear his name, the way to do that is in a court of law so everyone can see the evidence," Superintendent Johnson told reporters.
"I stand by the facts of what we produced. If they want to dispute those facts, then the place to do that is in court, not in secrecy."
The Mayor of Chicago, Rahm Emanuel, also expressed his anger that the charges had been dropped. 
"This is without a doubt a whitewash of justice," he said at the news conference, where he flanked Superintendent Johnson.
In the wake of his arrest in February, Smollett was removed from the final two episodes of the latest season of the Fox series Empire.
In a statement on Tuesday, 20th Century Fox Television and Fox Entertainment said: "Jussie Smollett has always maintained his innocence and we are gratified that all charges against him have been dismissed."