Strictly Come Dancing pro dancer Neil Jones has said people overreacted to his wife Katya's kiss with her celebrity partner Seann Walsh.
Katya and Seann were caught up in a scandal on last year's show after they were photographed kissing on the street in London, despite both having romantic partners. They were forced to issue public apologies after the pictures were published in a newspaper.
Married couple Neil and Katya appeared on Lorraine on Tuesday where they addressed "kiss-gate" and insisted they have moved past the scandal.
When asked if they thought people overreacted to the incident, Neil agreed, saying: "For me, I felt like they overreacted."
Katya continued: "I think so. And even the fact that we're still talking about it, it's like we're over it, I think everyone else is over it, let's just move on.
Strictly's @Mrs_katjones and @Mr_NJones address the kiss-gate scandal involving Seann Walsh that rocked the last series of the show, sharing how it affected both them and their families,  and explain how they've moved on from it.#Lorraine pic.twitter.com/PUIJR45nvr

— Lorraine (@lorraine) March 19, 2019
Asked about the backlash to the kiss, Katya said: "I think it took a few days, and I didn't realise the scale it's going to be, sort of hyped up.
"It was shocking really, but I was just trying not to look on the outside. We were just trying to keep it all together here. It was quite a lot of things I hadn't experienced before."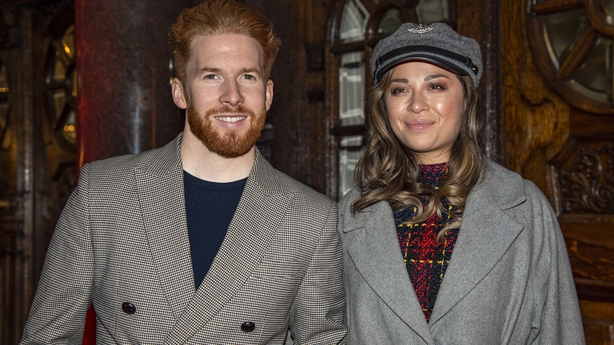 Speaking of his initial reaction, Neil recalled: "It was a shock. For me it was a major shock. And I appreciate that Katya told me, so I found out from Katya before I saw it in the news. Strictly they were fantastic with me, with us all. They supported us all and they were helping us.
"It was that shock factor, and for me it was just straight away I was more worried for Katya, because I could see what was going to happen, and I knew how strong everything was on the show and I was just like as long as she's going to be alright."
Katya went on to explain that her and Neil's relationship is very strong after a decade together.
"10 years we've been together, and that's not for nothing," she said. "We've gone through so many things together."
"Of course we had a lot of things where people were like, 'how can you do this?'" Neil continued. "I was getting messages on Instagram, 'You've gotta leave her.' And I was like, that's what's wrong.
"I always feel that that's what's wrong at the moment, everybody just looks at things, it's a quick relationship. We've been together for 10 years.
"For me it was important to be understanding, so I just needed to speak to Katya, to be with her in the moment and understand what's gone on."