Colin Farrell has said that making his new family adventure Dumbo "didn't feel like work" with every day on the set of the live-action Disney movie a source of wonder.
Director Tim Burton's re-imagining of the Disney favourite opens in Irish cinemas on Friday March 29, with Farrell playing the former circus star who befriends the misfit elephant.
The Dublin actor was still buzzing from the experience as he walked the red carpet at the film's world premiere at Los Angeles' El Capitan Theatre on Monday night.
"Honestly, it didn't feel like work," said Farrell. "You've heard that before, and I've said that before, and I've meant that before, but never was that so true as on this film.
"There was just this enormous crew of talented people in front of the camera, people behind the camera, and also all the circus performers that they amassed from all the four corners of the globe, from Mongolia to South Africa to Northern Africa to South America.
"It was amazing. You'd look in the corner and you'd see a contortionist, and over there would be people juggling and trapeze artists. And this was 'going to the office' every day, so it wasn't exactly hard work!"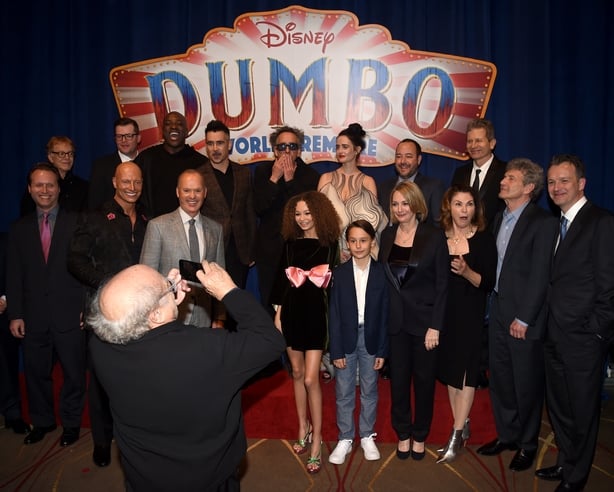 Paying tribute to Burton, Farrell described him as a director with "an incredible grasp of the fantastical".
"The worlds that he has created through the provocation of his imagination and how he has put those worlds on the canvas of cinema over the years, from Edward Scissorhands to Pee-wee's Big Adventure and Beetlejuice - you name it. He always, as an audience member, lifts me up and takes me somewhere, so to be part of that kind of vision..."
"He also has an understanding of the outsider and Dumbo's the quintessential outsider," Farrell continued.
"Somebody who's not accepted because of the way they look, who's maligned and shunned.
"So the message in this film, it's beautiful to be part of because it's one of inclusion, it's one of not just accepting difference but celebrating difference, and that message never gets old."
We need your consent to load this YouTube contentWe use YouTube to manage extra content that can set cookies on your device and collect data about your activity. Please review their details and accept them to load the content.Manage Preferences