Hozier has debuted at No. 1 in the US with his new album, Wasteland, Baby!.
The news that the Bray singer has topped the Billboard 200 album chart comes as he begins his North American tour, which will run until the middle of next month.
Can't quite put it into words. Thank you, so so much to the fans for this #1. This is handmade, homemade music and your support of that is everything. Thank you to my incredible team @ColumbiaRecords, @Rubyworks. Thank you to @CarolineAtMCD and Denis Desmond! #wastelandbaby pic.twitter.com/GTTzgla7xk

— Hozier (@Hozier) March 10, 2019
Wasteland, Baby! is his first No. 1 album in the US.  
HOW good did @Hozier sound on the #latelate 🙌 pic.twitter.com/cZE7lX87fX

— Entertainment on RTÉ (@RTE_Ents) January 25, 2019
Speaking to RTÉ Entertainment about the album - his second - Hozier said: "I think this record, there's a lot of love songs. I find I would write songs about other things, albeit through the lens of a love song, or through the surface that's wrapped up in a love song.
"But I don't know, some of the songs for me are characterised as a farewell to things, or a worry or a concern of bad and terrible things to come.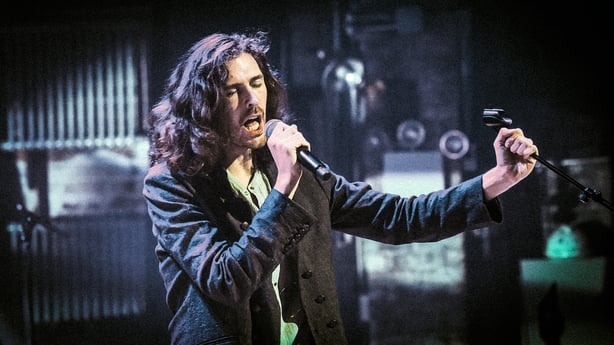 "It tries to hold on to some warm centre or redemptive sort of point of, yes; there are all these terrible things that we can fear or lose and have to say farewell to, but there is still the potential of such kindness and such goodness in people, so much love in people and that's still there."
Hozier returns home for shows at Independent Park, Cork on June 25 and Belsonic Festival, Belfast on June 27.