Hozier is releasing his highly-anticipated second album Wasteland, Baby! on Friday and Sinead Brennan sat down with him to talk about the songs, the importance of speaking up, and taking time to breathe when burn-out comes knocking.
In 2014 Andrew Hozier-Byrne released his eponymous debut album and enjoyed a meteoric rise to fame and acclaim on both sides of the pond in the wake of it's release. Not long after his intense tour schedule for the album ended, everyone began to look for a follow-up, but rushing a release to capitalise on his growing success wasn't something that interested the Wicklow man.
"I didn't see the point in, I just wanted to spend time and make sure I was happy with the work and make sure the work was worth writing and worth doing, as opposed to getting into writers rooms or anything like that," Hozier-Byrne said.
"First off i was exhausted, I was completely burnt out after the tour so I needed a bit of time to breathe and to approach the work in the same way I had approached it before."
After the tour, which saw him play in every corner of the world, the 28-year-old "took a deliberate 6-12 months of living in the countryside in a small bungalow in Wicklow and it was just nice. I just chilled out there and took my time with it."
Wasteland, Baby! absolutely begs to be heard live, and Hozier had that setting in mind during the writing process. 
"I'm looking forward to playing, and especially these songs on the album, they were written for that," he explained. "Because the last tour was so long, it definitely left me with the impression that I want to write stuff that is fun to play live and I definitely approached some of these songs with that intention."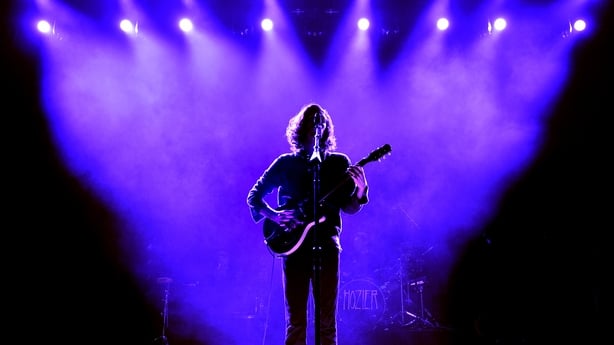 Last year Hozier treated fans to new music in the form of his Nina Cried Power EP, and the response from fans and critics was great, but ever humble, while acknowledging how "really, really wonderful" it is that the reception was good, he's more concerned with the assurance that "people still dig where I'm coming from and are on board with it."
The song Nina Cried Power opens Wasteland, Baby! and Hozier describes is as a "thank you note" to the legacy of artists like Nina Simone, Bob Dylan and James Brown, speaking out and "defining the zeitgeist for their generation."
"They just reflected their times honestly in the work they created, they just allowed their work to carry some of that zeitgeist, be a vehicle for the feeling of their times and what was going on in the world around them and how they saw it, and that's not always the case in a lot of music being made today," he mused.
"I'm just a firm believer in writing music you wish other people were writing.
"So it's just trying to maybe write something that looked to that legacy and that tradition of artists like that, like what an amazing legacy."
We need your consent to load this YouTube contentWe use YouTube to manage extra content that can set cookies on your device and collect data about your activity. Please review their details and accept them to load the content.Manage Preferences
Some celebrities are criticised for not using their platforms to talk about their political leanings, show their support for important issues or to speak on injustices in the world. Others are criticised when they do. Hozier acknowledged that there is a "tricky line" to tread, but his view is that "life is too important to not help out where you can."
"Obviously the easiest thing is to not speak out because if you don't have a history of speaking out and you never start a precedent of opening your mouth to speak about things that are important, nobody is going to look to you to be the person that does it, so it's easier to keep your head out of it entirely," he said.
"But the way I see it, life's too short and life is too important as well, and the lives of other people are too important to not help out where you can, and for me it's not like I'm in the trenches, I literally make noises for a living.
"Some of the stuff, I maybe will give a signal boost to or go to a rally or march or sing a song or whatever, I'm not in the trenches, I'm not living that in the same way people who really dedicate their lives to it are, but I still think it's a very small thing to contribute and that solidarity really costs you nothing.
"If it does piss off somebody, sometimes, I don't want to be a cynic about it but, you know, if you're pissing off the right people its not a bad thing."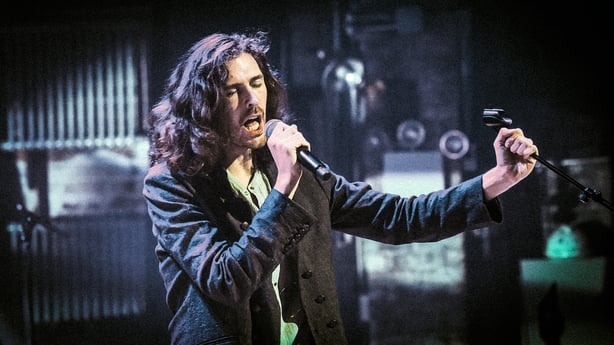 So on to the rest of Wasteland, Baby! The album deals with love in every sense of the word, while using the love song guise to tell deeper, universal stories of the world, doomsday and the human condition.
"I think this record, there's a lot of love songs. I find I would write songs about other things, albeit through the lens of a love song, or through the surface that's wrapped up in a love song, but I dunno, some of the songs for me are characterised as a farewell to things, or a worry or a concern of bad and terrible things to come," Hozier said. 
"It tries to hold on to some warm centre or redemptive sort of point of, yes, there are all these terrible things that we can fear or lose and have to say farewell to, but there is still the potential of such kindness and such goodness in people, so much love in people and that's still there and for me that was just a lot of the album was trying to be a squeeze of the hand."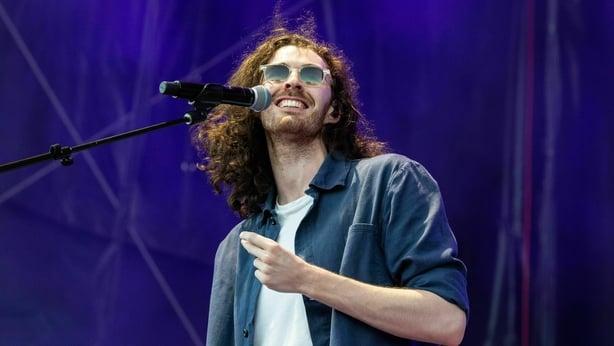 Speaking of the title track, Hozier added, "There's a song on the record called Wasteland, Baby! and for me, it was cathartic to write because it's nice to put to words the genuine fear of the loss of all things, or the end of life itself and you know, a lot of the songs came from that place of being 2 minutes to midnight on the doomsday clock."
With the album completed, it is now out of his hands and ready to be unleashed on the world, and I wondered if it's hard, especially as he has a lot to live up to from his debut, to step away from it, accept that he can't tinker with it further, and say that it is finished.
"I think Orson Welles said about filmmaking, 'films aren't finished, they're just abandoned.' And I think that's to be said about songs too, you can keep tinkering forever and you do eventually just have to say look it's done, it's as close to done as it's going to be. So that is a hard one, a lesson to learn, knowing when to quit," he reflected.
"You do catch yourself, if I could change things on mixes even now, I would," he revealed.
"I'm still haunted by mix decisions I wish I could change, but part of that is that you're obsessive about your own work, you have to be obsessed."
While he may obsess over decisions made and songs gone by, there was a sense of relief with this album to get to finally put an old riff to use.
"The riff in almost I think i've carried in my pocket for years," he said. "It's a relief, I would say it's a good feeling but it's just relief that it's found a home because then you're free of it, it can leave you're brain. It's a good feeling and I just so happen to still quite like that song and I have a lot of love for it."
We need your consent to load this YouTube contentWe use YouTube to manage extra content that can set cookies on your device and collect data about your activity. Please review their details and accept them to load the content.Manage Preferences
A line from No Plan states, "The harder the pain the sweeter the song" but is that true?
"I dunno, I think for a lot of people, yeah maybe so. I suppose, that's a weird one, when people are happy they don't waste their time writing songs because you just enjoy being happy, so I do think that's why you get great albums after breakups, that tends to happen," Hozier answered.
"But it would be wrong to justify suffering through the idea that you might get a song at the end of it, but it happens for people."
Hozier's Wasteland, Baby! is released on Friday, March 1.
Track list:
1 - Nina Cried Power (featuring Mavis Staples)
2 - Almost (Sweet Music) 
3 - Movement 
4 - No Plan 
5 – Nobody
6 - To Noise Making (Sing) 
7 - As It Was 
8 – Shrike 
9 - Talk Refined  
10 – Be 
11 - Dinner & Diatribes 
12 - Would That I
13 – Sunlight 
14 - Wasteland, Baby!