Meghan Markle has spoken about her changing views on social media during a panel discussion on International Women's Day on Friday, saying that she avoids reading anything about herself online or in newspapers as it's "safer".
The Duchess of Sussex was taking part in the discussion at King's College in London convened by The Queen's Commonwealth Trust. Earlier that day. it was announced that Queen Elizabeth II had appointed Markle vice president of the organisation. Her husband Prince Harry is president of the group.
The panel's chairwoman Anne McElvoy, senior editor of The Economist, asked Markle how she responded to newspaper headlines that described her feminism as "trendy".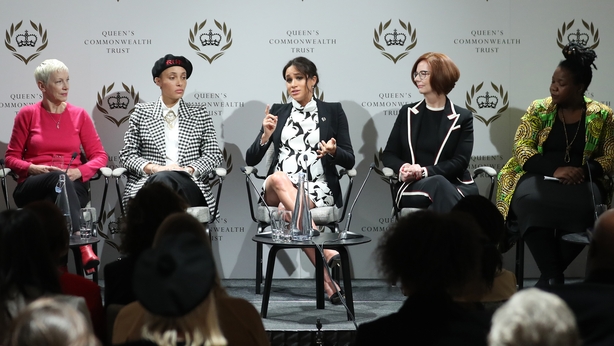 She responded: "I don't read anything, it's much safer that way, but equally that's just my own personal preference, because I think positive or negative, it can all sort of just feel like noise to a certain extent these days, as opposed to getting muddled with that to focus on the real cause."
When asked later if she looked at Twitter, she replied: "No, sorry, no. For me, that's my personal preference."
She had been active on social media before joining the royal family but closed her accounts when she became engaged to Prince Harry.
When the couple first confirmed their relationship, Prince Harry spoke out against the "wave of abuse and harassment" she suffered from the media, including sexism and racism.
More recently, actor George Clooney said she is is being "pursued and vilified" and compared her treatment with that of Diana, Princess of Wales.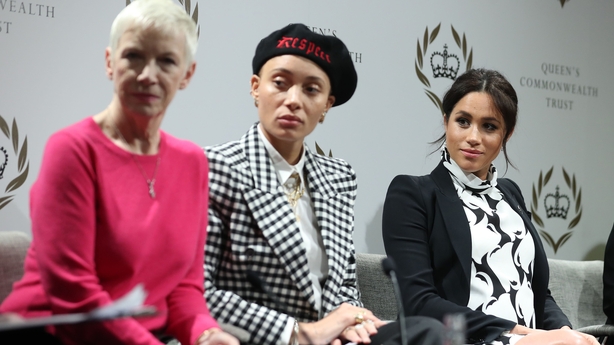 Markle discussed how social media users could make an active difference to women's issues worldwide during the panel event, saying: "We have a responsibility as well, that if you're part of social media and engaging in that way, we're not just giving people more things to chat about but actually something to do, and what's the action? Hashtags are not enough."
The Duchess also spoke about how she first started campaigning for feminism at the age of 11, saying:  "It really set up the trajectory for me to say, if there was a wrong, if there is a lack of justice, and there is an inequality, then someone needs to do something. And why not me?"
"If things are wrong and there is a lack of justice, and there is an inequality, then someone needs to say something" — The Duchess of Sussex on #InternationalWomensDay @QueensComTrust #IWD2019 pic.twitter.com/p5Dojn2Upw

— Kensington Palace (@KensingtonRoyal) March 8, 2019
Markle is currently pregnant with her and Prince Harry's first child, with the Duchess expected to give birth in April.