Ahead of his long-awaited return to live television next Monday with This Time with Alan Partridge on BBC One, the veteran presenter has admitted that he is "not an avid watcher" of the channel and is not "super-clued-up on the show itself".
This Time is billed as "a heady mix of consumer affairs, current affairs, viewer interaction, highbrow interview and lightweight froth" and sees Partridge back on live television for the first time since a guest was fatally shot on air during his 1990s chat show, Knowing Me, Knowing You.
The series sees stand-in host Partridge joining co-presenter Jennie Gresham for a number of weeks - but as the clock ticks down to his first show, Partridge has admitted he is still getting to grips with his brief.
"If I'm honest, I'm not super-clued-up on the show itself?" he told the BBC.  
"I'm not an avid watcher of BBC One, since I don't like documentaries about supermarkets or period dramas featuring bonnets." 
He continued: "But I've circled a bit on a This Time press release here that describes it as a '30-minute mixture of studio chat, rigorous interview, hard-hitting VTs and a generous helping of fun, covering news, issues and consumer affairs'. Whereas I'm more of a Nazi Megastructures man."
When it was put to Partridge that This Time represented a "more serious-minded" show for him, he replied: "I'm cool with that. I pull no punches, push the envelope and punch my weight when push comes to shove - if that makes sense."
When asked to sum up the programme, Partridge replied that he did not have the time "to sit around thinking up marketing taglines for the show".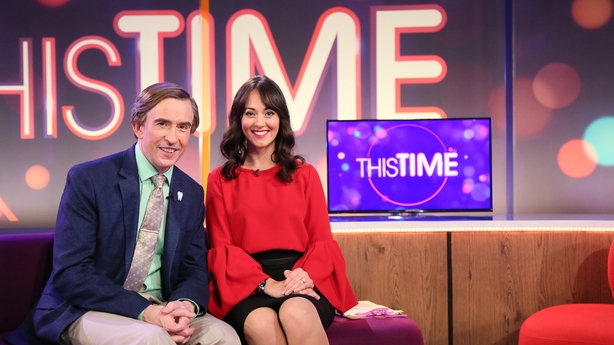 "Wish I did!" he continued. "But I suppose if pushed I'd say something like: if you've got time to give This Time your time, then it's time to let This Time spend time making your time a good time on This Time with me, Alan Partridge and, I'm sorry, I've forgotten the woman's name."
After being reminded that his co-host's name is Jennie Gresham, Partridge was given the opportunity to outline the changes viewers could expect with him "in the hot seat". 
"And it is a hot seat," he said. "There's an exposed bit of metal frame that cooks under the studio lights and if you sit right back and your shirt rides up, it scalds you on the back. So you just have to sit forward and/or make your shirt stays tucked in."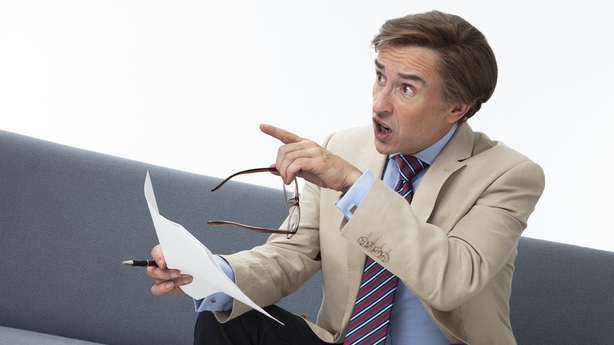 "Fear not, I'm not going to eff with a winning formula," Partridge added.
"But I do have a phalanx of fresh ideas that'll benefit the show no end, including the introduction of my longtime radio sidekick Simon Denton. Adept at reading out tweets and providing a sideways look at news, he'll be our social media reader-outer."
As the interview concluded, Partridge was asked if he had anything to add.
"Not really," he answered, "just please please please please please please please watch the show."
This Time with Alan Partridge, Mondays, BBC One, 9:30pm