As Irish five-piece rock band Vinci prepared to head off to Los Angeles to play the star-studded Oscar Wilde Awards, we caught up with them to chat about their career so far and potential big break in the US.
The band, which consists of singer/guitarist Kurtis Wade Murphy, bassist Noely Musgrave, lead guitarist Andy Lestrange, cellist/keyboardist David Doyle and drummer Leo Cassandro, landed the coveted gig at the annual US-Ireland Alliance show last July, saying it's "a dream come true".
The Oscar Wilde Awards, which celebrate the contributions of Irish people in film, TV and music and are held ahead of the Academy Awards, will this year honour Irish actors Chris O'Dowd and Aidan Gillan and six-time Oscar nominee Glenn Close.
One of the most accomplished Irish actors of his generation, one of the funniest people in film today & current Oscar nominee, a 7-time Oscar nominee...and US!?!? 😅🤯 @OscarWildeLA @TheAcademy @melissamccarthy #OscarNoms
See you soon, Hollywood 🙌🇮🇪🇺🇸 pic.twitter.com/Bg4aQF27az

— VINCI (@vinciband) January 23, 2019
Speaking to RTÉ Entertainment in Dublin, Vinci said they are "super excited" for the February 21 event which is hosted at the offices of director J.J. Abrams' production company Bad Robot in Santa Monica.
When asked if they are feeling any pressure at what could be a huge turning point in their careers, David said: "Any of the big pressure things, like that Iveagh Gardens gig [supporting Aslan last summer], we all came offstage saying that it was the easiest gig ever.
"Coming up to it there's definitely going to feel like there's a lot of pressure but once we're on the stage it's going to be grand."
Noely interjected: "Smaller gigs are more terrifying anyway, when you're playing to ten or twenty people in a small room, that's terrifying."
We need your consent to load this Instagram contentWe use Instagram to manage extra content that can set cookies on your device and collect data about your activity. Please review their details and accept them to load the content.Manage Preferences
We met up with the band in Dublin's City Hall, where they recorded their first ever music video for their single Lions in 2016. 
Kurtis reflected on their early days: "At the time I don't think we had even named the band. We didn't know what to call ourselves but we knew that we wanted to do a video in City Hall because it fit in with the imagery we wanted to do and it's such a beautiful building.
"We didn't realise that nobody had ever filmed a music video here and how difficult it was going to be, but we managed it."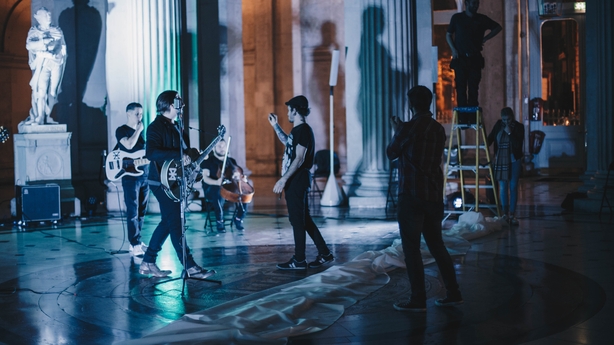 Noely managed to convince the Lord Mayor to allow them to film the video in City Hall after month of persistent phone calls.
He said with a laugh: "At one stage I rang him and he was with the president of Armenia. He answered the phone really quietly and said can I call you back I'm with the president of Armenia in Farmleigh.
"I said 'yeah yeah, so can we have City Hall?' I think he just gave it to us to stop me from ringing him. And then we found out afterwards that U2 actually tried to get in and do something similar back in the day."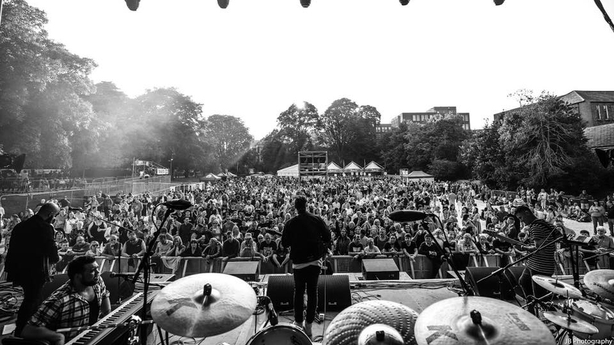 Kurtis said it's "crazy to think back to that point" since so much has happened since then.
"If you said to us two and a half years ago when we were getting ready to do that video, that we were going to fly out to Los Angeles and do the Oscar Wilde Awards and Glenn Close and Chris O'Dowd and Aidan Gillan were going to be watching us and JJ Abrams was going to introduce us we'd be like 'what are you smoking?'", he laughed.
The band, who are self-managed and self-promoted, said there is "no substitute for working as hard as possible" in order to succeed in the music industry.
"There's so many people that are trying to be successful in music and there's going to be somebody that's working when you're not, so you have to just work at every single second that you can because you need to work harder than everybody else," Kurtis said.
"You can have talent and you can have ambition and great songs and a great sound but if you're not working hard it's not going to happen. I feel like we work harder than everybody else."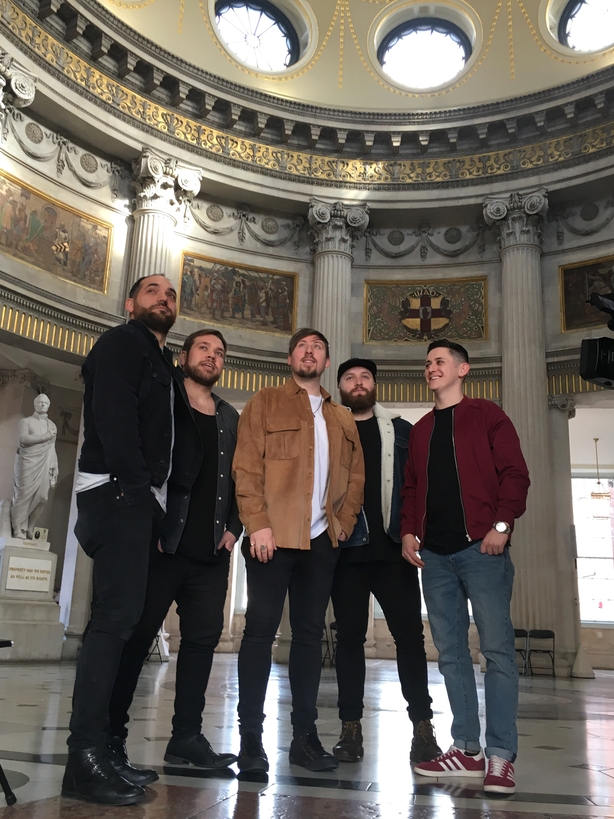 The musician added that they already feel grateful that "there's people that want to listen to songs that we've written by ourselves in a little room together.
"Even that alone, you could categorize that as success, that people actually want to hear the songs that you're creating out of thin air, that didn't happen before you were together."
We need your consent to load this YouTube contentWe use YouTube to manage extra content that can set cookies on your device and collect data about your activity. Please review their details and accept them to load the content.Manage Preferences
Kurtis said the band are planning to release their next single, When We Go Out, when they are back from Los Angeles, and said the project has a special significance to them.
"We're going to do a music video that we're really excited about because it's something that we feel very strongly about", he explained.
"It's related to the homeless crisis that's happening in the city. I personally look around and it's getting worse and worse. The amount of times that I'm on a Luas and see tents pitched up at the side of the canal, it's crazy how people can see that as normal or part of everyday life, it's just insane.
"So we'd like to draw some sort of attention to that and maybe put a different spin on it and show the reality of what's actually happening. I think it's too easy to just walk past and keep on with your day."