Katie Price has said she is considering residential care for her special needs son Harvey because she is finding it difficult to control his behaviour.
In a moving interview on Victoria Derbyshire's show on BBC Two on Wednesday, Price said that the 16-year-old does not know his own strength and his actions can frighten her other children.
EXCLUSIVE: @KatiePrice tells us she's considering residential care for her son for the first time.

Harvey, 16, is partially blind, autistic, and has Prader-Willis syndrome, which causes behavioural difficulties. pic.twitter.com/vrh0uR8iNb

— Victoria Derbyshire (@VictoriaLIVE) February 6, 2019
"For the first time ever now I'm thinking he might have to go residential, Monday to Friday," she admitted.
"He's missing out on his education; he just wants to be with me all the time.
"It's so hard. I've never had respite - I haven't got a carer for him - I do it all myself. But I'm really having to think about it. I hate it because he's my life. I've got to do what's best for him, it won't be forever."
"When he's smashing things and the kids are a bit scared of him because he's big, you know, he'll chase them and stuff," she explained. "I've just got to do it for him."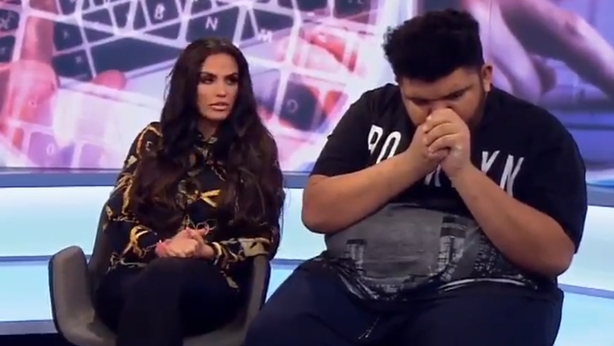 Price appealed for advice from viewers about their experiences of having a loved one in residential care.
After a tough year in her personal life, she said she would like the focus to be on the positives, including her care for her son.
"One thing is for sure: whether you like me or hate me, you can't knock me for this. This is one of the best things I've ever done, and Harvey is one of the best 'things' that's ever happened to me," she continued.
She also used the interview to repeat her call for the prosecution of online trolls who target people with disabilities, following the abuse Harvey has received online.
'I'm very proud,' @KatiePrice's son Harvey on her campaign to make online abuse towards people with disabilities a hate crime.https://t.co/hnGF3ECttv pic.twitter.com/sVo6hsnuau

— Victoria Derbyshire (@VictoriaLIVE) February 6, 2019