Maroon 5's Superbowl half-time performance has been criticised as being "the worst" in the event's history.
The band, fronted by Adam Levine, took to the stage at the midway point of the New England Patriot's game against the Los Angeles Rams at the Mercedes-Benz Stadium in Atlanta, Georgia, on Sunday.
During their 13 minute performance they raced through nine of their best-known hits including This love, Girls Like You, She Will Be Loved and Sugar.
The band were also joined on stage by rappers Travis Scott and Big Boi.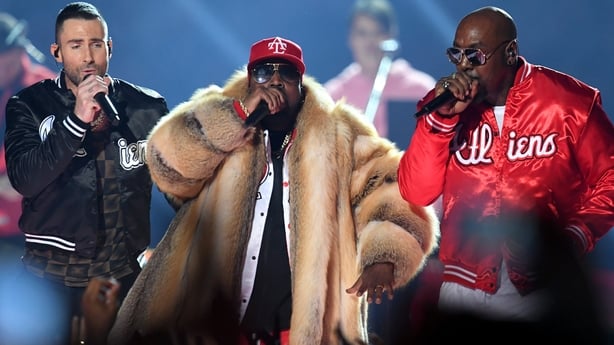 Following the halftime show, viewers took to Twitter to give their verdict, and the feedback was overwhelmingly negative.
Some commentators compared it to Justin Timberlake's underwhelming Superbowl performance in 2018, while others said it was "by far the worst" they've ever seen.
Justin timberlake and Maroon 5 having the most boring halftime in the history of supbowl halftime pic.twitter.com/zgrtnZUO1B

— chara♡ (@nanapuddin_) February 4, 2019
me during every part of maroon 5's performance of the half time show actually. pic.twitter.com/y57Gjp7uUT

— Rebecca Laurin (@nickelbackisok) February 4, 2019
I'm demoting Maroon 5 to Burgundy 4

— Jarvis Perkins (@twerkinperkinss) February 4, 2019
When you thought Justin Timberlake's halftime was bad but Maroon 5 was worse pic.twitter.com/VpzWhouajw

— Taeyong's Husband (@wayv4nct) February 4, 2019
So that was by far the worst #SuperBowl halftime show I've ever seen. The Maroon 5 guy couldn't sing due to being out of breath and the rest...soooooooo bad

— The Market Man (@markthecard) February 4, 2019
Maroon 5's performance at the Superbowl Halftime Show was the worst.

— jared (@JrdEspnFlrs) February 4, 2019
Wow talk about a disappointing Superbowl. Patriots win no surprise there, low scoring game really offense pathetic and lastly and more importantly worst half time show I like Maroon 5 but that was sad and NO SWEET VICTORY REALLY???? Worst Superbowl ever in my 21 years of living.

— Springtrap (@danielu6) February 4, 2019
Previous Superbowl half-time show performers include Lady Gaga, Coldplay Katy Perry and Beyonce.