Irish actors Aoibhinn McGinnity, Brían F. O'Byrne, and Eoin Macken will be seen on screen from February 1 in Nightflyers, the new Netflix drama from Game of Thrones creator George R.R Martin.
The 10-part sci-fi series, which was shot in Troy Studios in Limerick, also stars Gretchen Mol (Boardwalk Empire), David Ajala (Fast & Furious 6), and Sam Strike (EastEnders) and is based on a 1980 short story by Martin.
It centres on a group of scientists on a mission on board The Nightflyer to the edge of the solar system where they hope to make contact with a race of aliens who may be able to save a planet earth beset by a multitude of problems.
Speaking to RTÉ Entertainment at the launch of the show last year, former Fair City actor Eoin Macken, who plays Nighflyers' lead character, reclusive astrophysicist Karl D'Branin, said, "Nightflyers is a dark science fiction show in the vein of 2001: A Space Odyssey and Event Horizon about a group of scientists who go deep into space to try and meet these aliens which they believe exist beyond the stars. It's extremely dark. It's a very moody science fiction show."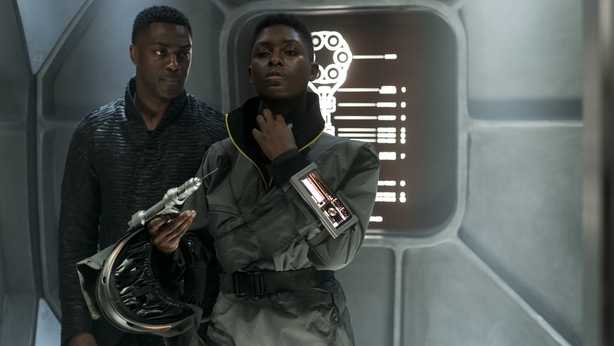 A crew of 500 worked on the shoot at the 35,000 square foot Troy Studios, which was converted from Limerick's former Dell computer factory, and the production is expected to bring up to €70m to the local economy. The Irish Film Board has given €850,000 in support to the show.
Speaking to RTÉ Entertainment last summer Monaghan-born actress Aoibhinn McGinnity said that she "genuinely got lost a lot" on the set of the show.
"It's massive, very impressive", she said of the sci-fi drama's production. "They put in so much effort, everything was amazing.
"Even the costume department was like walking in for a bridal fitting!"
George RR Martin's @nightflyersNFLX which was filmed @troy_studios and stars Irish actors @eoincmacken @brianfobyrne is coming to @NetflixUK in 1 Feb! #Nightflyers #Limerick pic.twitter.com/7RYuTA4M65

— Nicola Watkins (@nicolawatkins) January 15, 2019
"It was very interesting to be part of something shot in a studio, I've never even worked in a studio before at all let alone something of this size and then obviously Brían F. O'Byrne was involved and Eoin Macken and it's going to be on Netflix and stuff so it's great, really exciting.
"It was great to have something of that size done in Ireland in a new studio", she added.
"The scale and scope of the show is enormous," Executive Producer Gene Klein told RTÉ Entertainment. "That's one of the reasons why we're here in Ireland - we were lucky enough to find this brand new facility in Limerick that is large enough for us to build this extremely large spaceship and then there's obviously a lot of huge visual effects on top of that. This is one of the biggest things I've ever worked on."
More television news, reviews and interviews here