Young Offenders stars Alex Murphy and Chris Walley have teased the return of their famous dance moves in the show's Christmas Special, telling RTÉ Entertainment that they were "a lot harder" this time around.
Murphy and Walley are back as Conor and Jock for The Young Offenders Christmas Special, which airs on RTÉ One on Christmas Day at 10.35pm, and while the storyline is new, the dance sequence is back!
"How did that ever start...? When we were doing the film I just suggested it," Murphy told RTÉ Entertainment.
"We did it for a laugh and Peter (Foott, writer/director of The Young Offenders) let us do it just so we could humour him, and now it's been in everything."
We need your consent to load this YouTube contentWe use YouTube to manage extra content that can set cookies on your device and collect data about your activity. Please review their details and accept them to load the content.Manage Preferences
Walley joked, "Alex came up with it, Peter actually does nothing, we come up with everything."
On the Christmas sequence in particular Murphy said, "It was a lot harder this time because we did it on Patrick's Hill" with Walley adding, "We were nearly falling over all the time because Patrick's Hill is like, vertical. But it was good craic, we always enjoy doing it."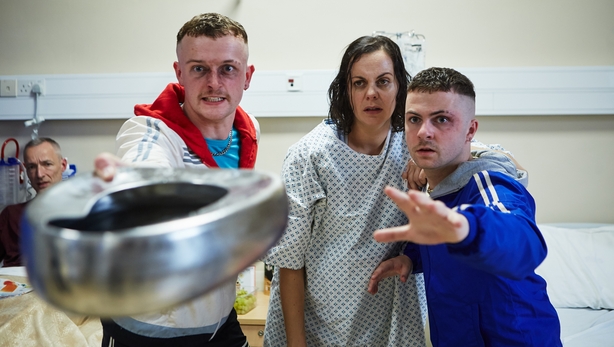 From flat surfaces to steep hills, where will the dance moves take them next?
"Underwater or something," Murphy offered, with Walley suggesting, "On marbles."
The Young Offenders Christmas Special airs on RTÉ One on Christmas Day at 10:35pm.