The first trailer for The Young Offenders Christmas special has been unveiled and it's as madcap as you'd expect. Maybe even more so.
Cementing our belief that this will be the Christmas special to end all Christmas specials, the 45-second clip contains the kind of antics you'd only see Conor and Jock get up to.
"Christmas is a time for giving. But when you've got f*** all, it's also a time for taking," it begins, as the lads hoist a fully decorated Christmas tree out a window.
The high-octane trailer also sees Jock accidentally spilling the contents of a bed pan over his face, guest star Robert Sheehan baring his chest to squeals from fans, and a few of the lads pulling mooners. Delightful.
"Christmas is a time for giving. But when you've got **** all, it's also a time for taking."

The Young Offenders Christmas Special, on BBC Three this Friday. pic.twitter.com/1SGdjHB9Ki

— BBC Three (@bbcthree) December 12, 2018
The festive caper takes place in Christmas week and sees Conor (Alex Murphy), his mother Mairéad (Hilary Rose) and best friend Jock (Chris Walley) joining the other residents of their estate to fight off plans to move them so that renovations can take place.
Mairéad has been ill for a number of weeks and it is discovered the situation is more serious than the boys thought.
When Mairéad is hospitalised, Conor and Jock ask her if there is anything she wants, and so they embark on "a chaotic adventure to try make her wish come true and in the process find out something about themselves and the value of empathy".
The Young Offenders special airs online on BBC Three today, on BBC One on Sunday, 23 December and on RTÉ One on Christmas Day.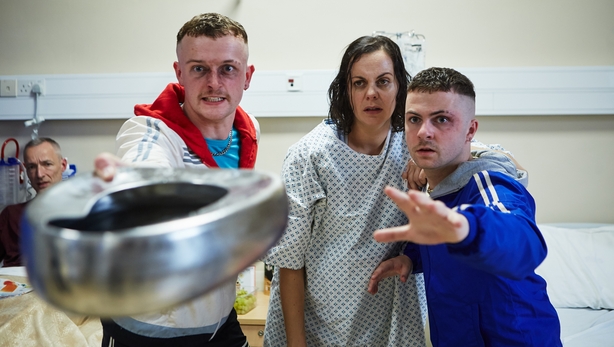 The six-part first series of the comedy show based on the 2016 smash-hit film of the same name was a huge hit when it aired earlier this year.
A second season was commissioned by the BBC before the first episode had been aired. It is due to begin filming early next year.