Aquman star Jason Momoa has heaped praise on his co-star Nicole Kidman, who plays his mum in the superhero epic, saying: "She brought out the best in me."
Speaking to RTÉ Entertainment in London, the Game of Thrones actor said that one of the main "pinch-me" moments he experienced on set was acting alongside the acclaimed Australian actress, who plays the role of Atlanna, the Queen of Atlantis and Aquaman's mother.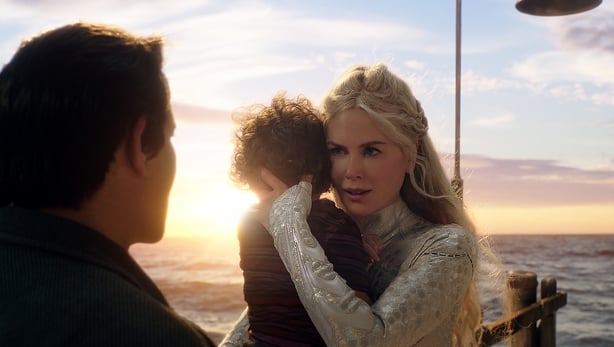 "Working with Nicole's one of them, for sure", Momoa said, before going on to talk about the day his real-life mum Coni came to visit the set.
"My mom was on set too, it was cool," he said.
"I took a picture of my mom and my movie mom, which is just, to be a young boy growing up in Iowa going, 'Nicole Kidman's my movie mom', it's surreal."
Momoa continued to praise Kidman and credited her for bringing out a better performance in him in the film's more emotional moments.
"I've never worked with that level of an actor before, she brought the best out of me. I'm really excited to see that scene [between Aquaman and Atlanna] because it's a very challenging scene to go from "kill, kill, kill" to 'Mommy, I love you!'"
"That was challenging, but she pulled it out of me. It's all her", he added.
The 39-year-old Hollywood star also revealed the sage advice imparted by his friend, and fellow superhero actor, Michael Fassbender.
Watch our full interview with the lovely Jason Momoa below.
There will be previews of Aquaman from Wednesday, December 12 before it goes on general release on Friday, December 14.