Jennifer Zamparelli has admitted that she had trouble trying not to let on that she'd bagged the gig co-hosting Dancing with the Stars alongside Nicky Byrne.
The Bridget & Eamon star was recently announced as the replacement for the departed Amanda Byram as the glitzy show is set to return to RTÉ One for a second season in January 2019.
"It was so difficult to keep that secret," she told Ryan Tubridy on Friday night's Late Late Show. "I told my husband, and I told my mother – and my mother is great at keeping secrets.
"She's very good, to the point when I told her I got the job, she was on the phone going: 'Yeah, I can't talk right now I can't talk right now cos he's following me into the room.'
"I said: 'Where are ya?' And she said she was with my dad."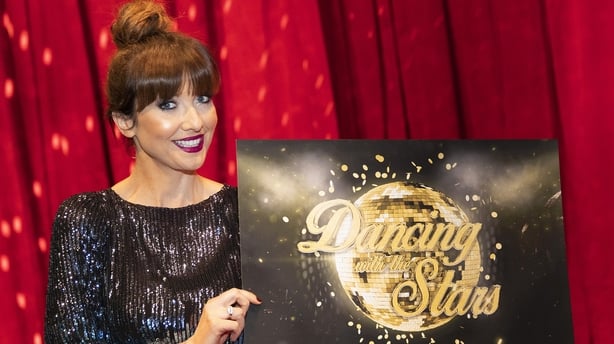 And what about working with Nicky Byrne? Ryan wondered. Never one to get fazed, Jennifer's response was swift and immediate.
"I think he's a little bit scared of working with me," she said. "Because I don't think he knows what's going to come out of my mouth."
When asked by Ryan whether she had to pass a chemistry test before getting the gig to work alongside Nicky, she replied: "I had to spend two-and-a-half hours in a hotel room in Dun Laoighre with Nicky Byrne!"
Ryan's response? "So, let's talk about the show!"
"I'm like the biggest fan girl of Nicky Byrne," Zamparelli added. "You know the way he sold out Croke Park? I bought those tickets. Every single one of them."
And here's what she would love to see on Dancing with the Stars:
Jennifer Zamperelli tells Ryan what contestants she would love to see on this years Dancing with the Stars! #latelate pic.twitter.com/F2P754XLKP

— The Late Late Show (@RTELateLateShow) November 2, 2018