The Young Offenders star Chris Walley has been honoured as part of the British Academy of Film and Television Arts' (BAFTA) Breakthrough Brits initiative celebrating the next generation of British-based talent, with the Cork actor telling RTÉ Entertainment he is "definitely not the British contingent, but the Irish contingent".
Walley joins Kerry producer Fodhla Cronin O'Reilly and 17 other rising stars from the worlds of film, television and gaming in this year's line-up. Previous recipients include Walley's fellow Irish actors Jessie Buckley and Martin McCann, The Black Panther's Letitia Wright and Spider-Man star Tom Holland. 
"You're allowed to be considered if you've lived here, if your base is out of Britain," Walley explained. "So I'm lucky that I've lived here for the last three years, but obviously I'm very much Irish and a proud Corkman. So I've kind of managed to tiptoe around it that way. 
"We'll let them call it that if they want to, but then I'll be sure to inform everybody that I talk to that I am most definitely not British, but Irish."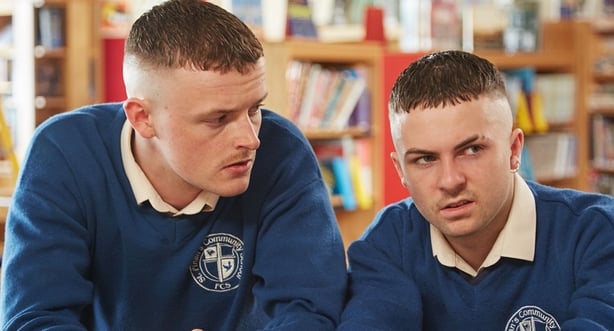 Walley said it was a "big honour" to have been chosen, having seen what it has done for other people's careers.
"You get a year's BAFTA membership, but non-voting membership, so unfortunately I can't vote for myself," he continued.
"You get to go to all the BAFTA events, all the screenings, mentorship programmes. They can set up meetings with filmmakers that you're really interested in meeting - someone jokingly put Brad Pitt down on it one year and then ended up sitting down talking to him for four hours. 
"It's an incredible opportunity to get so early in my career, so I'm looking forward to that for the next year. And free cinema as well."
Having just graduated from the Royal Academy of Dramatic Art (RADA) and having made his acclaimed West End debut in The Lieutenant of Inishmore during the summer, Walley has been back home recently filming for the second season of The Young Offenders on RTÉ2 and the BBC.
Huge congratulations to @ChrisWalley95 for his nomination for the 'Emerging Talent Award' at the Evening Standard Awards! #LieutenantOfInishmore #ESTheatreAwards pic.twitter.com/NWWTpTEmXL

— MichaelGrandageCo (@MichaelGrandage) October 29, 2018
"I can't say a whole lot," he sighed. "I'd love to say everything - I'm bad for that - but I'd just get about 10 phonecalls giving out to me so I'm going to stay shtum. It's just mad again - the situations the lads get themselves into - and there's some interesting people in it as well that you probably wouldn't expect to see." 
Looking at the whirlwind of success he has experienced since The Young Offenders made their big screen debut in 2016, Walley said he felt "very fortunate and chuffed with it all, so hopefully it will just keep going that way". 
"I'm very grateful and I don't really know what else to say - just smile and run with it. You can't really get notions being from Cork; you're friends will bring you straight back down."
As for reaction from friends and family to his BAFTA honour, he replied laughing: "People think it's a voting thing, it's not - I've been chosen already! We've all just been picked now so there's nothing to win. Everyone's a winner! The thing that all the teachers tell you in school, it's finally true!"