The death has been announced of the festival and concert promoter John Reynolds, who died suddenly in Dublin at the age of 52 on Thursday.
A statement issued on behalf of his family read: "It is with great sadness that the Reynolds family confirm the sudden death of John Reynolds of POD this evening.
"John, aged 52 years, who was one of Ireland's leading independent festival and concert promoters, died suddenly at his home in Milltown, Dublin.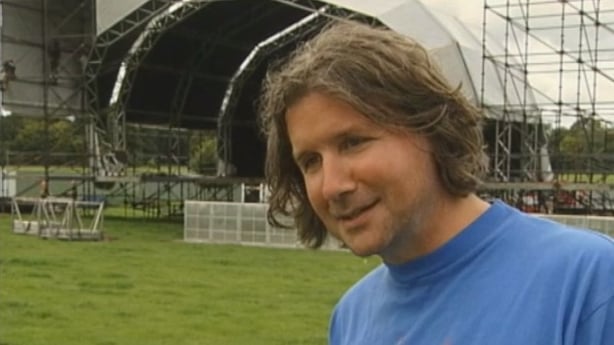 "Funeral arrangements will be announced in the coming days. The family requested privacy at this time.
"Metropolis Festival will go [ahead] this Saturday 27th and Sunday 28th October as scheduled in the RDS, Dublin."
A native of Co Longford, John Reynolds was a nephew of the former Taoiseach Albert Reynolds, who passed away in 2014.
During his career, John Reynolds co-managed Boyzone in their early days and founded the Electric Picnic festival, although he had not worked with that festival in recent years.
He also ran the POD and Red Box clubs on Dublin's Harcourt Street and was the driving force behind Dublin's Metropolis, Forbidden Fruit and Vinyl festivals, among many other ventures.
This year he launched a new festival weekend, All Together Now, through his promotions company POD at Curraghmore House, Co Waterford. 
Read Jim Carroll's tribute to John Reynolds. 
There have been many tributes on social media:
Very very sad news about the sudden death of visionary concert promoter John Reynolds - RIP pic.twitter.com/8NrevYX2Z8

— Ian Dempsey (@IanDempsey) October 25, 2018
Very sad to hear of John Reynolds passing. He was a really good guy who put on so many amazing events - starting @EPfestival 14 years ago, then @ForbiddenFFest , Altogether now and this wkends Metropolis fest.   RIP John https://t.co/v04qp0TVly

— HamsandwicH (@Ham_Sandwich) October 25, 2018
Saddened to hear of the death of John Reynolds. One of the first gigs he promoted was The Stunning in Moate, Co. Westmeath around 1993. He changed the face of festivals in Ireland with #ElectricPicnic & was about to do it all again with #AllTogetherNow.  RIP.

— The Stunning (@TheStunningBand) October 25, 2018
Shocking sad news to hear of John Reynolds passing this evening, a kind generous guy. So many happy memories of him at EP a brilliant promoter. RIP

— Derry Clarke (@DerryClarke) October 25, 2018
Hard to take in the news tonight of the passing of John Reynolds. A true giant of Irish Music, he shaped many of our best loved festivals and music venues and raised the bar for live music. Deepest sympathies to all his family and friends.

— Whelan's (@whelanslive) October 25, 2018
Just heard about John Reynolds, my condolences 2 his family & friends. U may not have heard of John before, but if u've been 2 Electric Picnic, Forbidden Fruit, shows at Pod Venues in dublin, then u know John's work. He gave me a lot of shows when i was starting out. So sad. RIP

— JamesVincentMcMorrow (@jamesvmcmorrow) October 25, 2018
Sad news this evening about the death of John Reynolds - the man behind #ElectricPicnic #ForbiddenFruit #AllTogetherNow #Vinyl @PODPresents & this weekend's #Metropolis festival. Very young and gone to soon. Thoughts with his friends and family #rip #music https://t.co/8nTMpMwd7r

— Steve Cummins (@Steve_Cummins) October 25, 2018
Sad to hear of the sudden passing of John Reynolds. He changed the game for music clubs and festivals in this country and was still doing it with Metropolis and All Together Now. Irish music lovers thank you.

— Stuart Flood (@stuflood) October 25, 2018
The RedBox
Pod / Crawdaddy
Electric Picnic

Some of the best days of many people's young lives spent in those beautiful places. RIP John Reynolds.

— Paddy O'Brien (@Miggeldy_Higens) October 25, 2018
RIP #johnreynolds I had some amazing nights in the pod and red box. Electric picnic is an institution and bellinter house is a beautiful hotel. You were a legend

— Luke McGuinness (@LukeMcGuinness) October 25, 2018
RIP John Reynolds

Thank you for the  great entertainment through the years... PoD nights, EP weekends and All Together Now... :( https://t.co/UhWTPFpYZ6

— John Gallen (@TheTrips) October 25, 2018
John, thank you for all the amazing events, festivals, gigs, opportunities and pioneering the festival front in Ireland. RIP #johnreynolds deepest sympathies to his family at this time and of course colleagues. https://t.co/YCLQWLtAa4

— Good Seed PR (@GoodSeedPR) October 25, 2018
rest in eternal peace john reynolds, a lovely beautiful kind special human and an incredibly creative promoter of shows concerts and festivals.  ní bheidh a leithéad i nár measc arís

— fachtna O Ceallaigh (@foc187) October 25, 2018
John Reynolds, thank you. RIP.

— Conor (@AaronOMeara) October 25, 2018
Shocked and saddened to hear of John Reynolds passing. Big love to the Pod family right now 💔

— Jack Dunne (@Jack_Dunne_) October 25, 2018