Promoters take chances. By their very nature, they go out on a limb every time they go to work. When you and I go to work, our most dangerous decision is probably what to have in the canteen. Promoters, though, put their very livelihood on the line every time they book a venue and book a band and stick the tickets on sale. If it all goes wrong, they lose their shirt. If it goes really badly, they stand to lose their entire wardrobe. 
They're the ones who stand by the venue door on the night, count heads as they walk into the house and make those mental calculations. They deal with the hassle, the mess, the small details, the pickles which dominate a show, regardless of whether it's the very smallest of venues or the very biggest of stages. And then they wake up the next morning and do it all over again. 
Saddened to hear of the death of John Reynolds. One of the first gigs he promoted was The Stunning in Moate, Co. Westmeath around 1993. He changed the face of festivals in Ireland with #ElectricPicnic & was about to do it all again with #AllTogetherNow.  RIP.

— Steve Wall (@stevethewall) October 25, 2018
Let's be honest, it's not something most of us could or would or should do. But promoters are born this way, especially those independent promoters who operate as lone rangers without the safety net and bankroll of a huge multinational corporation. For them, the thrill comes from turning an idea into reality and creating the best-night-out for thousands of people. That's how they get their kicks. They're the ones who make our lives that bit better with those best-nights-out.
Just heard about John Reynolds, my condolences 2 his family & friends. U may not have heard of John before, but if u've been 2 Electric Picnic, Forbidden Fruit, shows at Pod Venues in dublin, then u know John's work. He gave me a lot of shows when i was starting out. So sad. RIP

— JamesVincentMcMorrow (@jamesvmcmorrow) October 25, 2018
Since the sad news of his untimely death broke last night, many, many, many people have been talking with great fondness and love about John Reynolds and their best-nights-out. Like the promoters he admired and would spend hours talking to you about – the giants of the game like Bill Fuller and Bill Graham and Michael Eavis who'd laid down the markers for him and his ilk – John put on many best-nights-out. 
Like the very best people, he was a relentless optimist, someone who battled and pushed and strived with an idea long after the rest of us would have given up.
Promoting was the family trade. His dad Jim and uncle Albert ran a chain of ballrooms of romance from Rooskey to Limerick and everywhere in-between. JR cut his teeth with family venues in Longford, but it was kind of obvious he wasn't going to be content to hang around dealing with the stragglers for the cloakroom in the Fountain Blue at the end of the night. 
Instead, as has always been the norm, the culchie went to the big smoke and showed them what to do. His back-pages are a star-studded list of where Ireland's republic of leisure rolled over the last few decades. 
I am completely devastated at the death of an old, old friend tonight, John Reynolds. I can't really take it in. Far too soon. Can still hear him at the kitchen table here, telling stories, full of infectious  enthusiasm, planning the next festival. Heartbroken. RIP Gino.

— David McWilliams (@davidmcw) October 25, 2018
The POD on Harcourt Street came on stream when the city was experiencing its first major clubbing boom in the early 1990s. It was truly head and shoulders above what else was happening at the time, the biggest thing to hit Harcourt Street since that train crashed into the station back in 1900. He also got involved with his great mucker Louis Walsh with this band called Boyzone that you might have heard of. He put on the Homelands dance music festival and was a partner in the international Home nightclub chain. 
When he turned his attention to live music, venues like Crawdaddy and the Redbox popped up on his Harcourt Street patch. When he got into festivals, he gave us the Electric Picnic.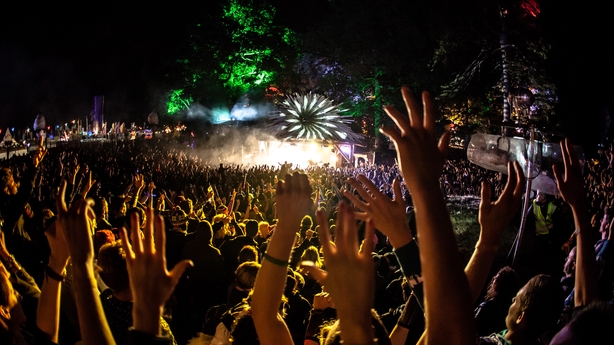 It was the kind of festival we'd never seen in this country before. In its hey-day when John was at the helm, it was the most exciting weekend of the year. It was so good when JR was putting up the flags that you'd give up an All-Ireland hurling final ticket for it. It changed many people's lives. Not to put too fine a point on it, it probably changed the country. 
Most people would be content with that kind of run, but not John. He kept pushing. He was behind such bright ideas as a city festival like Forbidden Fruit and a winter festival like Metropolis. Most recently, he put on the acclaimed All Together Now festival down in Waterford last August. After some setbacks when he lost control of the Electric Picnic, he was back in the festival groove. 
John displayed more imagination, energy, enthusiasm, spirit and crazy unique ideas before breakfast than many of his peers do in a lifetime.
One thing worth noting amongst a long list of things to note is how JR's various ventures provided a space for many young bucks to try their hand. For instance, his spaces were where the Bodytonic empire began to get notions, where the fabulous Powderbubble first popped up on the radar and where Thisispopbaby began to flourish. As is always the case, game recognises game. 
He gave hundreds of DJs and club runners a start. He provided many people with an apprenticeship in the ducking and diving trade required to be a promoter. He took a chance on small bands – and big ones that others had forgotten about. When he brought Chic and Leonard Cohen to Ireland in the late years of the last decade, few of us realised that they'd become such beloved fixtures here. 
John displayed more imagination, energy, enthusiasm, spirit and crazy unique ideas before breakfast than many of his peers do in a lifetime. Music may have been his main game, but he was informed by art, design, architecture, football and dozens of other things. Like the very best people, he was a relentless optimist, someone who battled and pushed and strived with an idea long after the rest of us would have given up. As a promoter, it was about the experience – putting on a string of best-nights-out – more than he business. He had that vision thing – and he drove some of us crazy with that f**king vision thing. 
Extremely sad to hear of the passing of John Reynolds. A real innovator, adventurer and chance-taker. And a nice man. He paid his own respects to my father two months ago. RIP, John.

— Leagues O'Toole (@foggynotions) October 25, 2018
Like many folks right now, I'm going to miss him. I knew him a long time. As you get older, such key associations and friendships get longer and deeper and you can always pick up the thread when there's a gap. Like any long friendship, there were times when we fought like cats and dogs – he threw me head first out of the POD a few times over some row now long forgotten in the mists of time – but there was always a reconciliation. I valued the calls, the texts, the conversations, the encounters, the crazy ideas. I find it really hard to believe there won't be more. Deepest, heartfelt condolences to his family and colleagues in POD on this sad loss. 
When the news of JR's passing broke, I was watching Hamlet in the dark of the Gate Theatre. As is so often the case, you can always lean on Shakespeare to call it right. "He was a man. Take him for all in all.I shall not look upon his like again."