Profuse birdsong gently pierces the air and Kildare famer Thomas Reid is bringing water in plastic buckets to feed his calves. He goes about his work doggedly and earnestly; he has his farming routine each day. A thoughtful, easy-paced man, he listens in between times to the local radio and sends in the odd request. It might be Horslips, Twisted Sister or T'Pau - his is an eclectic taste indeed. He visits the local Tesco to stock up on cod fillets, which he finds are not too expensive. €2.49 for four pieces, he says.
Inside his spacious 18th-century dwelling, which has been in the family for 100 years, photographs from years ago adorn the walls. A picture of his parents' wedding holds pride of place in the stone-faced dwelling, which is situated in Blakestown, close to the Carton estate in Co Kildare.
Fifty-one-year-old Thomas keeps stacks of dusty videos - Dallas, Keeping Up Appearances - and he listens to old rock LPs on vinyl. More ominously, he has stacks of correspondence on a legal matter stashed at various places known only to him around his living space. These papers are the cumulative record of Thomas's court battle to remain living on at his house and farm, which he regards as his fundamental right. 
Meanwhile, radio bulletins are heard in voiceover referring to the IDA (Industrial Development Authority) and to Intel's wish to acquire Thomas's property for a manufacturing facility. Intel is an American multinational corporation and technology company, whose headquarters are in Santa Clara, California. They are, in fact, Ireland's largest multinational corporation.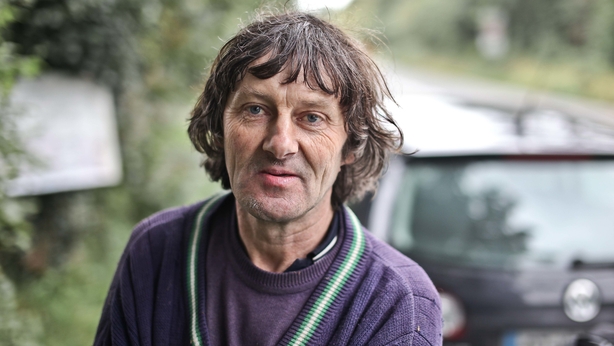 Overtures have been made to the farmer, who is a canny, resolute individual. The interesting circumstances in which such overtures were made become clear in a surprising coda to the documentary.
Wherever the pressure is coming from, it doesn't matter: Thomas does not want to move from his house and lands. No Compulsory Purchase Order (CPO) or no amount of financial compensation will alter his decision. Thomas has declined the offer to sell, but a High Court judgment eventually rules that the IDA have a right to a CPO in the case of his property.
Feargal Ward and Tadhg O'Sullivan's film conjures a vivid picture of the life of a lone individual who is neither camera-shy nor basking in the attention of the camera. Indeed, he seems at times to be participating in the film almost for the sake of courtesy, even for company. Clearly there is more to it than that, and the film is an element in the armoury with which he is girding himself to fight the High Court pronouncement that all the grounds for his challenge have failed.
His farm is deemed to be an appropriate site for development, near the M4 with relatively easy access to Dublin Airport. There will be, it is comfortably predicted by one voice on the radio, "thousands of jobs" involved, many of those jobs in the construction of the new facility to manufacture next-generation computer chips.
We follow Thomas through the seasons, under lowering winter skies and in bucolic spring and summer scenes, while actors engage in reconstructions based on the legal transcripts. The Lonely Battle of Thomas Reid - one man who simply wants to stay in his house and in his fields - is in sum a fascinating portrait of a determined son of the land.
The Lonely Battle of Thomas Reid opens at selected cinemas on October 19, including IFI, Dublin; Omniplex Rathmines; Vue Liffey Valley; Eye Cinema, Galway and Mahon Point Omniplex, Cork. There will be an opening night Q&A on October 19 at the 18.30 screening at IFI, Dublin. See lonelybattle.com for full listings.
Read director Feargal Ward writing about the background to making the film The Lonely Battle of Thomas Reid here.
We need your consent to load this YouTube contentWe use YouTube to manage extra content that can set cookies on your device and collect data about your activity. Please review their details and accept them to load the content.Manage Preferences