Dancing with the Stars champion Jake Carter found his romance with professional dance partner Karen Byrne was the main topic of conversation when he appeared on Saturday night's Ray D'Arcy Show on RTÉ One, with the "annoying uncle" host telling the singer that he had his "suspicions" that they would become an item.
The couple, who won the second series of the RTÉ competition last March, started dating after their victory - with D'Arcy keen to show that the spark was there when they appeared on his programme back in April.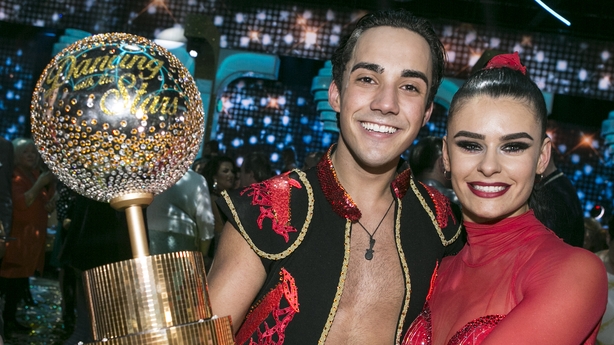 "I had my suspicions," said the host. "They were on in April, sitting on that couch, and definitely there was something. Like, you were smitten by her."
After watching a clip of the April interview, a bashful Carter said: "I didn't realise at the time, but maybe I must have been smitten by her then."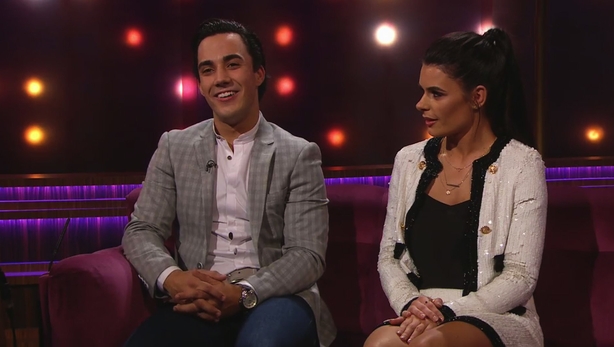 In the week that saw Strictly Come Dancing contestant Seann Walsh become the latest celebrity to be associated with the so-called 'Strictly Curse', Carter was asked if he believed there was a romantic spell when people took to the dancefloor.
"People go on about a 'Strictly Curse' and I've obviously been asked it so much," Carter replied.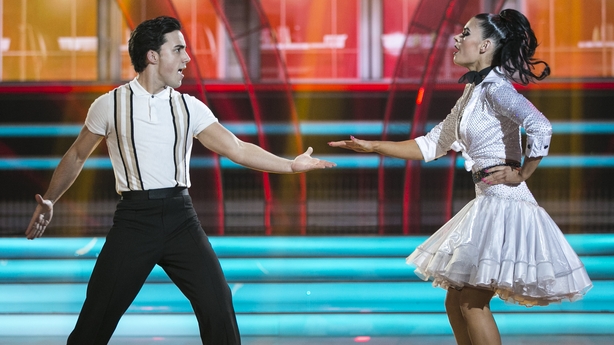 "I think when you're on the show and being a singer and stuff - I suppose it's part and parcel of it, it comes with it - but there's no real private life.
"When I started seeing Karen we didn't really want it to be a public thing and we're still not like [high profile]. I mean, there's couples out there that post stuff on Instagram and, obviously, social media is a massive thing for both of our careers. But we didn't want to be out there and telling everyone.
"But I think the 'Strictly Curse' as well: yeah, it is kind of, I suppose, because it's dancing.
"But I think it happens in any job. If you're going to spend 10 hours a day with someone and you click and you both like each other... I think it can kind of happen if you're working in an office, if you're working on TV, if you're in a band, if you're doing anything."
Ray and @jakecartermusic talk about the #strictly curse live on the #raydarcyshow. pic.twitter.com/2KzmJdVAlE

— The Ray D'Arcy Show (@RTERayDarcyShow) October 13, 2018
"Radio," D'Arcy replied. "It happened to me."
"There we go," smiled Carter. "It can happen anywhere. I see where people see a 'Strictly Curse', but I don't believe in it now, to be honest.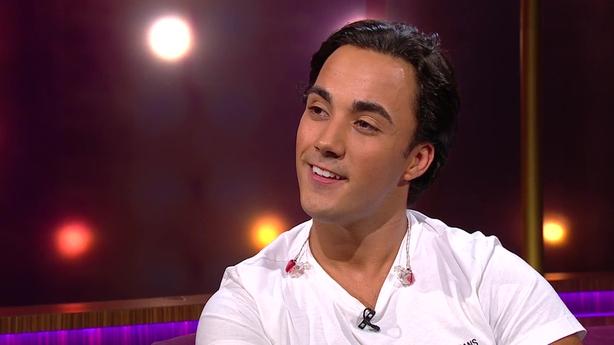 "Well, it happened to you, in fairness," said D'Arcy, with Carter agreeing, "and you're going to be watching Karen dancing with somebody else come January. Have you had chats about that?"
"No, we haven't really," said Carter. "I wouldn't be a jealous guy... I'm actually looking forward to watching this series without being so nervous. I remember how those celebs are going to feel standing on the side and absolutely bricking themselves. So I'm actually looking forward to just kind of sitting back and watching it from an audience point of view."
Watch the full interview on the RTÉ Player.
Dancing with the Stars returns to RTÉ One in January.
Carter is currently on tour and will star as Aladdin in the Olympia Panto, Polly and the Magic Lamp, from December 21.
𝕆𝕝𝕝𝕪 𝕆𝕝𝕝𝕪 𝕆𝕝𝕝𝕪-𝕆𝕚 𝕆𝕚 𝕆𝕚
Panto favourite "Olly" aka
the extremely talented
𝐑𝐲𝐚𝐧 𝐀𝐧𝐝𝐫𝐞𝐰𝐬 & Pop Sensation
𝐉𝐚𝐤𝐞 𝐂𝐚𝐫𝐭𝐞𝐫 are ready to take you all on a hillarious & magical adventure
Tickets on sale now 🎟#PollyAndTheMagicLamp
PC@keithdixonpix pic.twitter.com/jCuBrnh0B0

— Olympia Panto (@OlympiaPanto) October 10, 2018