Wearing a Make America Great Again hat, rapper Kanye West met President Donald Trump in the White House on Thursday, where he gave a meandering 10-minute monologue, lavished Trump with praise, and gave him a hug, saying "I love this guy".
West, one of Trump's most ardent celebrity supporters, met the US President in the Oval Office at lunchtime, ostensibly to talk about criminal justice reform, manufacturing jobs and gang violence.
During the meeting in front of White House reporters and photographers, the rapper launched into a lengthy speech in which he spoke about a variety of subjects, including the "male energy" of Trump's 2016 campaign, his belief that he was misdiagnosed with bipolar disorder and why he think Saturday Night Live, which has famously featured Alec Baldwin impersonating the president, needs to improve.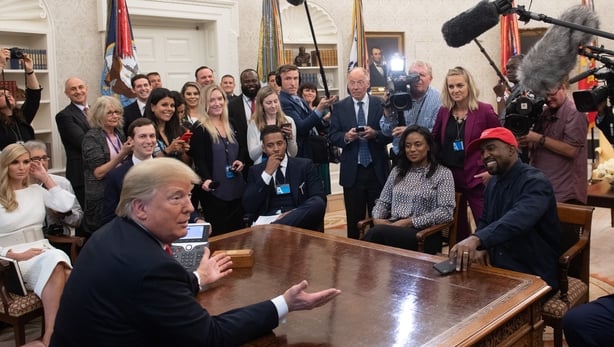 West also swore during the meeting, telling the onlookers: "Let's stop worrying about the future all we have is today... Trump is on his hero's journey right now. He might not have thought he'd have a crazy motherf***er like (me)."
He referred to Trump as a father figure, and said: "My dad and my mom separated so there was not a lot of male energy in my home and also I'm married to a family where, you know, there's not a lot of male energy. It's beautiful, though."
The 41-year-old music star also mused about why Democratic candidate Hillary Clinton lost the presidential election in 2016.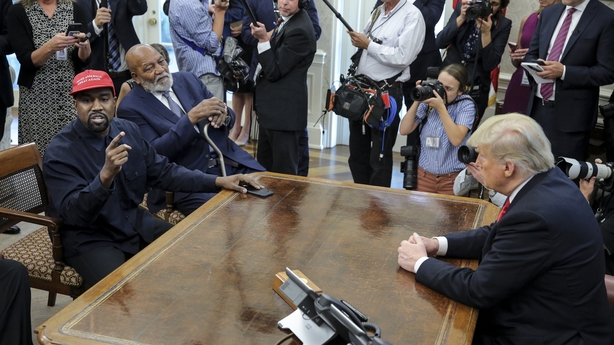 "I love Hillary. I love everyone, but the campaign 'I'm With Her', just didn't make me feel as a guy, who didn't get to see his dad all the time, like a guy that could play catch with his son. There was something, when I put this hat on, it made me feel like Superman," he said.
Looking at Trump, West added: "You made a Superman cape for me. That's my favorite superhero."
"I love Hillary. I love everyone, but the campaign 'I'm with her' just didn't make me feel — as a guy … it was something about this hat that made me feel like Superman," famed musician Kanye West said of his MAGA hat while discussing masculinity, the economy and his brand pic.twitter.com/T06Z5tOSIU

— POLITICO (@politico) October 11, 2018
At one point West unlocked his phone, apparently using the password 0000, and said he had been misdiagnosed with bipolar disorder, and was instead sleep deprived.
"I was diagnosed with bipolar disorder, I was connected with a neuro-psychologist that works with the athletes in the NBA and NFL. He looked at my brain", West said.
"I wasn't actually bipolar, I had sleep deprivation which can cause dementia 10 to 20 years from now when I wouldn't even remember my son's name".
He then showed the room a new idea for a presidential plane to replace Air Force One, and mentioned Apple as one of the companies who could potentially help build it.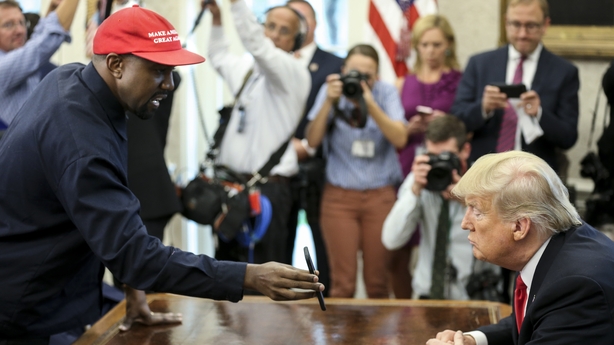 At one point a reporter asked Trump whether West could be a future presidential candidate. "Could very well be," Trump responded.
"Only after 2024," West added.
He said he "loves" the president, before hugging him.
We need your consent to load this YouTube contentWe use YouTube to manage extra content that can set cookies on your device and collect data about your activity. Please review their details and accept them to load the content.Manage Preferences
"I tell you what, that was pretty impressive," Trump said after West had finished speaking.
"It was from the soul," West responded. "I just channeled it."
"What I need Saturday Night Live to improve on. What I need the liberals to improve on is, if he don't look good — we don't look good. This is our president," musician Kanye West said of the late night show that consistently mocks Donald Trump pic.twitter.com/ab2jUI1xiU

— POLITICO (@politico) October 11, 2018
The meeting was also attended by NFL Hall of Fame player Jim Brown, Trump's daughter and adviser Ivanka and his son-in-law Jared Kushner.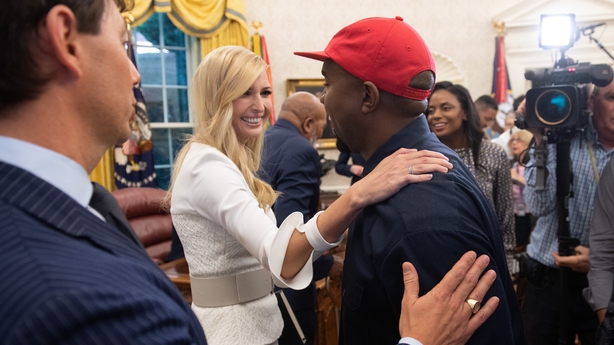 West's wife, the reality TV star Kim Kardashian West, sat down with the president earlier this year to discuss criminal justice reform and secured the freedom of Alice Johnson, a great-grandmother who had been serving a life sentence for drugs offences.