Donald Trump has taken to Twitter to thank Kanye West for his support following an interview on Jimmy Kimmel in which the rapper addressed his controversial relationship with the US president.
During the interview, 41-year-old West said that he didn't understand why people criticise the President instead of trying to "love".
"When I see people go at the President, why not try love, for one person to stand up against all odds and just hug somebody the way that Alice Johnson hugged her family when she got out of jail?", West said.
"That one by one by one we can defuse this nuclear bomb of hate that we're in as a society by thinking of everyone as our family."
President Trump took to Twitter to praise West for telling "the TRUTH" and said his support is making "a big difference".
Thank you to Kanye West and the fact that he is willing to tell the TRUTH. One new and great FACT - African American unemployment is the lowest ever recorded in the history of our Country. So honored by this. Thank you Kanye for your support. It is making a big difference!

— Donald J. Trump (@realDonaldTrump) August 10, 2018
However, West failed to defend Trump when Kimmel brought up his policy of separating the children of illegal immigrants from their parents.
"There are literally families being torn apart as a result of what this president is doing, and I think that we cannot forget that", Kimmel said.
"Whether we like his personality or not, his actions are really what matter. You so famously and so powerfully said 'George Bush doesn't care about black people'.
"It makes me wonder, what makes you think that Donald Trump does, or any people at all?"
West seemed lost for words and sat in silence mulling over the question for a few seconds. Kimmel cut to a commercial break before the rapper had a chance to respond.
Kimmel did not return to the question after the break.
We need your consent to load this YouTube contentWe use YouTube to manage extra content that can set cookies on your device and collect data about your activity. Please review their details and accept them to load the content.Manage Preferences
West made a splash in December 2016 when he met the then-President-elect in Trump Tower in a move which surprised many fans and commentators.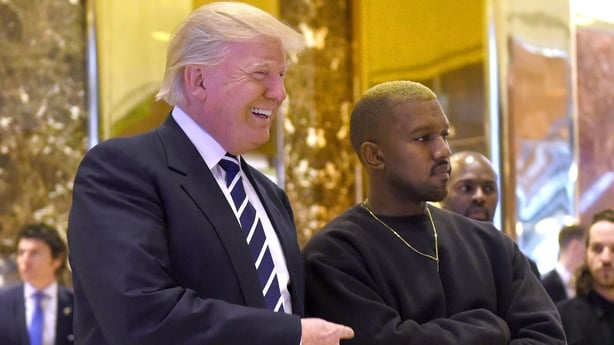 His surprise meeting with Trump followed a series of statements from the rapper, who said during a concert that he would have voted for the businessman-turned-politician if he had cast his ballot.
In February 2017, West appeared to have a change of mind when he deleted any mention of the US President from his official Twitter page.
Watch Kanye's full interview on Jimmy Kimmel Live! below.
We need your consent to load this YouTube contentWe use YouTube to manage extra content that can set cookies on your device and collect data about your activity. Please review their details and accept them to load the content.Manage Preferences