Over three years since their last album, 2015's Coming Up For Air, Irish rockers Kodaline are gearing up for the release of their long-awaited follow-up, Politics of Life, and they said they are "nervous" but "excited" about setting their new music loose into the world.
The album's original release date of October last year was pushed back after the band, consisting of singer Steve Garrigan, guitarist Mark Prendergast, bassist Jason Boland and drummer Vinny May, decided to go back into the studio to re-record approximately 60% of the songs.
Speaking to RTÉ Entertainment ahead of the album's release on Friday, September 28, drummer Vinny May said it's "been a long time coming".
Watch our interview with Mark and Vinny:
"We took our time, we finished it and then decided it wasn't fully there, so we rewrote a good chunk of it. Now we're a couple of days away and the nerves are starting to set in," Vinny explained.
"It's always nervy when you're releasing new music, just putting it out there and other people listening to it. So yeah, it's nervous excitement."
Guitarist Mark Prendergast pitched in about the band's change of direction on the record, saying: "It was very different, we're very happy we did it. It just wasn't right, I don't know what it was. We loved some of the songs that we had done already but there was a few that collectively we didn't land on."
The Dublin musicians collaborated with an array of acclaimed producers on the album including Steve Mac, Johnny Coffer and Jonas Jeberg, as well as long-time collaborator Johnny McDaid of Snow Patrol. The writing process pushed the band out of their comfort zones.
"I think it's important, music is all about expression and evolving so I think we've changed slightly as people, we're still the same people, but in terms of what we want to get out of a record has kind of changed", Vinny said.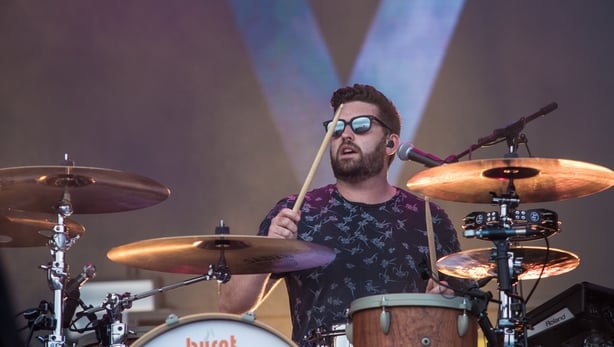 "We've been quite insular as a band up until this point so working with other producers and songwriters, we've done it for the odd song here and there, but never across the board so that was a new experience, learning to take on other people's criticism and opinions about songs because normally it's just between ourselves."
Mark added: "Most of the time was spent trying to find people we could work with because we never opened the doors like that and let someone come in and contribute to lyrics and everything. Once we found them, that's where the real fun began.
"If someone's in the room and they're writing a song for the band they're pretty much a part of the band for those few hours. I'm glad we did it, I'm not sure if we'll do it again. I'm not sure if we'll go searching again but we'll definitely work with people in the future because it's eye opening. People are brilliant! Some people can do things that we can't, it's just an extra opinion in the room."
The musicians had high praise for Northern Irish Snow Patrol star and songwriter McDaid.
"No one can touch him on lyrics", Mark said. "Normally I'll let lyrics come naturally whereas with him you'll sit down for six hours and have a conversation and it'll be so intense but what you get at the end of it is incredible. It's an amazing experience."
"He's quite an inspirational guy to be around, he has a way with words and he has a way of changing the mood in a room just by him saying a couple of things", Vinny continued.
Mark interjected: "And he's lovely. Do you ever meet people that you spend an hour or two with them and you leave the conversation feeling better about yourself, on every level.
"I remember we were in LA and I was having a real bad day, I couldn't come up with something, and he was like 'come on let's go for a walk on the beach' and we took our shoes off an walked on the beach together and I was like 'everything's ok'.
"Hopefully we get to work with him again, he's become a friend now", he added.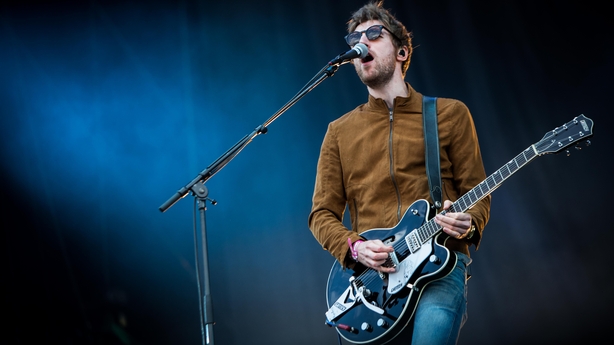 McDaid's partner, Friends star Courteney Cox, directed the video for Kodaline's single Love Will Set You Free, which they wrote with McDaid.
"That was pretty crazy", Vinny said. The song was written in her house and she'd be popping in and out to the studio."
"Making tea", Mark chimed in.
"She fell in love with the track and fell in love with the fact that it was written there and she just really wanted to do it. She's an incredible person and the pair of them together are an incredible couple", Vinny added.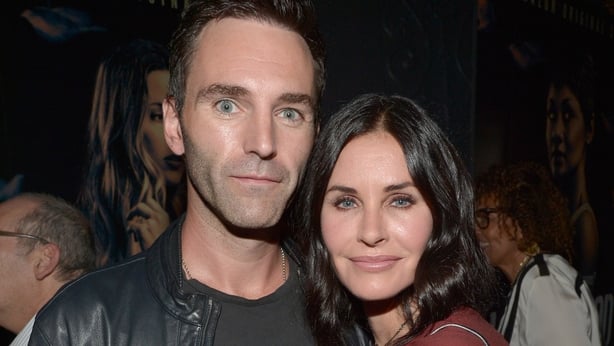 The first single off Kodaline's new album, Head Held High, sees the band go in a new direction. Mark said they're now "really excited" about it once they got over their initial reservations.
"This is the one that we were scared of the most because as soon as we wrote it we were like 'that is so uplifting and so pop'. It's uncontrollably pop. It took a while and then I completely fell in love with it because the lyrics are pretty dark. It's about going through utter hell but it's painted in such a pretty way. The video adds amazing colour to it", he said.
"We wrote that with Johnny McDaid and two other guys, we had a lot of people in the room that day, it was the first time we'd done it and we thought it was so weird having so many people throwing their foot in, but I love the song, it's one of my favourites."
The band are embarking on a tour across Europe, America and Canada next week.
Vinny said: "We haven't done a back to back tour to Europe and America and Canada in a while, it's been a long time coming because we had to cancel a tour to do the album so a lot of people have been waiting for us to go back out, it's going to be a lot of fun."
Do they miss any home comforts when they're on the road?
"Nowhere else does tea," Mark grumbled. "The worst is when they bring you out a glass of boiled water with a tea bag beside it and no milk. I don't want to make a scene, but it's not tea!"
"We bring Barry's tea with us", Vinny shared.
Kodaline's third studio album, Politics of Living, is out on Friday, September 28.
For more music news, click here.