Metallica have been confirmed as Slane Castle headliners for 2019, with the concert, subject to licence, taking place on Saturday June 8 and tickets on general sale this Friday at 10:00am.
Presales for members of the band's fan club begin tomorrow, Tuesday, September 25. Metallica's tweet announcing the show erroneously relocated Slane Castle to Dublin on the list of tour dates.
We're returning to the UK & Europe next summer for a run of outdoor gigs at stadiums, parks, & even one at a castle! Our friends @thebandGHOST and @Bokassaband will be joining us along the way.

Tickets on sale 9/28 @ 10 AM local time.⁰ Fan Club presales begin 9/25. pic.twitter.com/obP19bL0mW

— Metallica (@Metallica) September 24, 2018
Support at Slane will come from Ghost and Bokassa with more acts to be announced.
Speaking at a press conference announcing the show, Slane Castle owner Lord Henry Mountcharles said playing Slane had been on Metallica's "bucket list" and that the band "tick all the boxes" for the iconic Meath venue.
Lord Henry Mountcharles looks forward to seeing his grandchildren "rocking out" to Metallica:
"There are all sorts of connections," he explained. "Metallica were formed in LA in 1981 - the same year as the first Slane. Metallica got an award in 2000 for the best live performance of Whiskey in the Jar. Metallica are great fans of Thin Lizzy, of course, who headlined the first Slane.
"I said, 'How the hell are we going to follow [2017 headliners] Guns n' Roses?', and Metallica were a very obvious choice."
"I wanted to show the world that Slane's rock 'n' roll roots are alive and well," he added.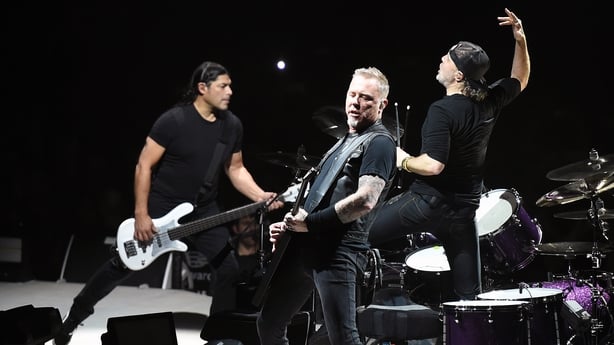 The concert will be Metallica's first Irish date in a decade.
Longtime visitors to Ireland, Metallica made their Irish debut on the Master of Puppets European Tour in 1986 with a legendary show at Dublin's St Francis Xavier Hall in September of that year.
MCD owner Denis Desmond talks about the announcement: