The director of new London crime caper King of Thieves has said that securing Michael Caine in the lead role was the key to getting the movie made as producers were competing against eight other productions telling the story of the Hatton Garden heist of 2015.
In the movie, which also stars Ray Winstone, Michael Gambon and Tom Courtenay, Caine plays "gentleman thief" Brian Reader, the mastermind who leads a gang of elderly and blundering criminals in a robbery which was considered the crime of the century and which captured the public imagination.
"I'm old and I'm Cockney, but I'm not a robber." - Michael Caine talks to RTE Entertainment
Speaking to RTÉ Entertainment, James Marsh, who also made The Theory of Everything, said: "For a film of this type, it happened quickly but once Michael was on board, that was it - we could fire away.
"We knew this story was irresistible and our idea was to approach it as a naturalistic account and if that ends up being absurd or comic in places, well, that's how we found it."
Writer Joe Penhall, who also penned Netflix show Mindhunter, based his script on hundreds of pages of surveillance on the gang gathered by police in the months following the audacious robbery.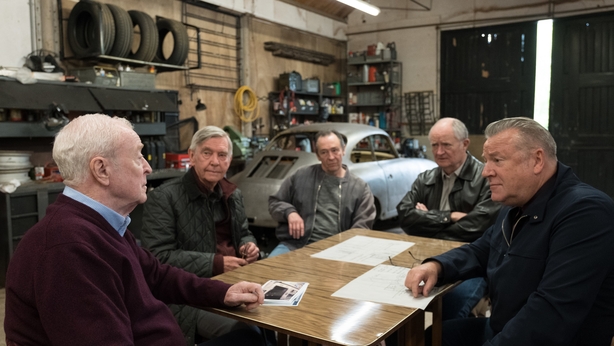 "This one hundred page document arrived from Scotland Yard, which was transcripts of all the surveillance tapes because they were put under heavy surveillance," he said.
"Those transcripts were so rich, the language is so strange and demotic and bound up in criminal vernacular that I was just drawn in and by studying those transcripts I noticed this power struggle in the gang emerging."
Marsh added, "I approached it as I found it, which was like a documentary account of what had actually happened.
"It's not a very glamorous film even though the characters have those aspirations so we tried to make it as real as possible and not glamorise it."
Alan Corr @corralan