Michael Caine has told RTÉ Entertainment that he felt destined to play the elderly criminal mastermind who plotted the Hatton Garden robbery in new crime caper King of Thieves
Caine (85) plays Brian Reader in the movie, which tells the story of how a gang of bungling OAPs - dubbed the Diamond Wheezers - pulled off the crime of the century - the multi-million pound heist of a London jewellers in 2015.
Speaking about "gentleman crook" Reader, Caine told RTÉ Entertainment: "Well, he was an old Cockney robber. I'm old and I'm Cockney, but I'm not a robber.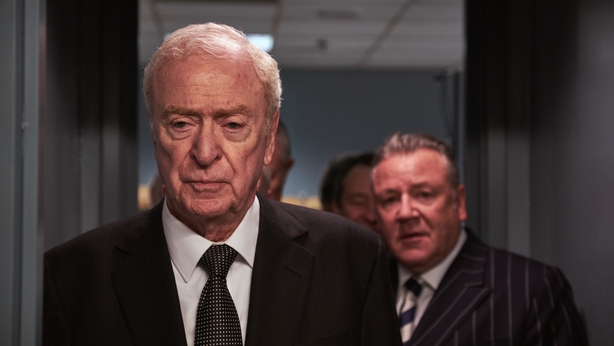 "I've never stolen a thing in my life. I've never wanted anything of anyone else's but I thought people would think I was like that and lo and behold, I was cast."
Caine added that he had to modulate his famous Cockney accent for the role after Reader's daughter said the actor was too "common" to play her father.
"I changed my voice because I could never meet Brian Reader so I never knew his accent and his daughter in an interview said I was too common to play the part so I made him a little less Cockney.
"My accent is a little less Cockney anyway or else no-one would understand me."
King of Thieves, which was directed by Man on Wire director James Marsh and written by Mindhunter screenwriter Joe Penhall, also stars Doctor Zhivago actor Tom Courtenay, Michael Gambon, Ray Winstone, Daredevil star Charlie Cox, and Paul Whitehouse.
It mixes comedy with pathos to tell the story of the audacious heist during which the cons didn't even have to "blow the bloody doors off", just drill a dirty great hole in a wall.
However, after the success of the robbery, backstabbing and recrimination turn the old lags against each other.
It also presents a study of growing old in a rapidly changing world but for Winstone, who, at 61, is a relative stripling, the story was very close to home as he grew up knowing one of the criminals, Danny Jones, and visited him in jail after the gang was caught.
"To be honest I didn't visit him in jail to find out anything about him because I knew about him. I know who he was and what he was," Winstone said.
"So I went there purely out of respect - 'I'm an old mate of yours, I'm playing you in the film. How do you feel about that?'
"He was fine about it - bit disappointed it wasn't Brad Pitt playing him. He got me and he had a good chat. I've been back to see him since and I shall go back to visit him again."
Caine, Winstone and Courtenay are old friends and have appeared on screen before in Last Orders in 2001 and Caine says there was a great sense of fun on the set of King of Thieves.
"It was a lovely picture to make," he said. "Because we're all friends and we knew each other and some of us had worked together. It was great."
Alan Corr @corralan
King of Thieves is in cinemas on Friday, September 14.