Harry Dean Stanton's swansong as an actor is a wryly affectionate exercise that has some arresting moments but teeters towards sentimentality because of some dud notes in the screenplay. Still, it's worth it for keen acting all round.
Lucky reminded me somewhat of Werner Herzog's 1977 film Stroszek, which featured a decidedly odd bunch of characters wandering around small-town Wisconsin.
No one wanders much though in Lucky, except the eponymous hero who generally wanders to two places, the local diner and the local bar, to make gnomic pronouncements on life and death among the assorted company which includes David Lynch doing a decent turn as a man lamenting the loss of his pet tortoise.
Then he wanders back to his house of a sunny evening, past the tall cacti in the California sun. At home he watches bad TV, does more of his perpetual crosswords. He  phones up an unseen interlocutor with whom he appears to be on reasonably intimate, albeit speaking terms only.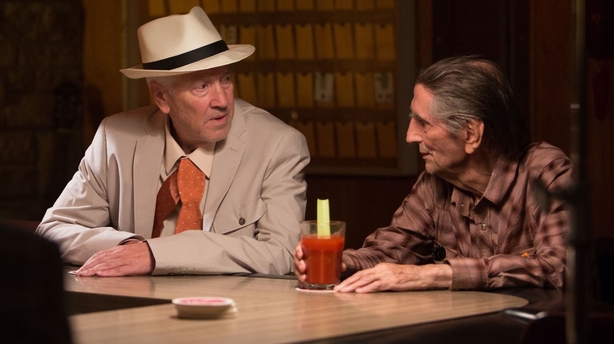 If memory serves, the structure of this movie is similar in style also to Stroszek, being a sequence of deliberately stagy set-pieces that draw us inexorably into the mystery and heartbreak that is the life of Lucky. Unlucky in another sense, despite his moniker, he is living alone in old age, his health in question after a sudden, unexplained fall. He smokes too many cigarettes even if he is a medical anomaly, according to his doctor, who tells him that his heart and lungs are perfect. 
Nevertheless, scans have been done and results will come in due course and the whole thing puts the frighteners on Lucky. Being an old salt he is loath to admit to any kind of fragility, spiritual or otherwise, but he is in fact scared about what lies ahead.
As a young man, he was the ship's cook on a Second World War US ammunition ship in the war against Japan. Now he looks at the photograph of himself in sailor's uniform and there is a sense that life has passed him by.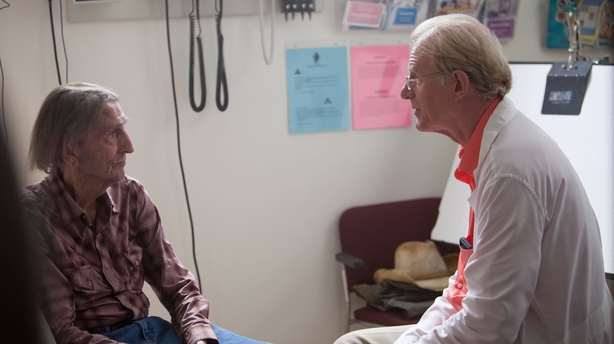 It's a familiar trope that, but nicely reworked here. However, just because you have Harry Dean Stanton doing his swansong for you, and you can utterly rely on him to deliver somnolent gloom when required, doesn't excuse weak lines.
The would-be climactic scene of the movie features Lucky holding the bar floor and telling the assembled that there is nothing at all after life, the body, this cigarette in his hand, whatever, they all expire.
Just because it is Dean Stanton delivering this existential discourse on the void doesn't make it less tired a declamation. Heck, aside from older members of the audience being wearily familiar, even literate 20-year-olds will have read some Sartre and well twigged this nihilistic stuff.
In other words, the screenplay should have found another way of rephrasing the old Shakespearean lines about strutting your hour upon the stage, the tale of sound and fury et al, life's brief candle etc.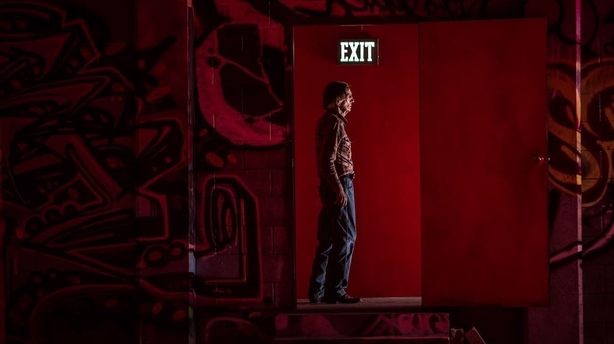 You could pick holes in that chiefly - bad choice of climactic moment - and in a couple of other things too, like the somewhat implausible visit by the waitress to Lucky's house. In this gratuitous scene, the movie teeters way too close to the sentimental territory it has been studiously avoiding throughout. Sure enough as soon as Lucky makes an oblique reference to his flagging sexual powers, she makes a bolt for the door. So, what was that all about, then? Nothing more than an ill-fitting non-sequitur is what.
A certain quirky eccentricity is part of the warm appeal of the movie and in large part the screenplay is indeed intelligent and sparkling. There is one absolutely beautiful short monologue involving Lucky's recollection of his accidentally shooting a singing bird when he was a boy. We witness, awestruck, the magisterial power that Dean Stanton can wield in this final movie, filmed shortly before his death which occurred in 2017. Lucky opens on Friday, and it is worth it for sharp acting all round. Pity about the screenplay, could have been smarter in that climactic speech which somehow falls flat.
We need your consent to load this YouTube contentWe use YouTube to manage extra content that can set cookies on your device and collect data about your activity. Please review their details and accept them to load the content.Manage Preferences