Singer and actress Olivia Newton-John has revealed that she has been diagnosed with cancer for a third time.
The 69-year-old star of the hit movie Grease told Australian television network Channel Seven that doctors discovered a tumour at the base of her spine.
She has undergone radiation treatment and is also treating the disease with natural therapies such as the use of cannabis oil.
"I'm still treating it, and I'm treating it naturally and doing really well, yeah," she said in an interview with Channel Seven on Sunday from her home in California.
"My husband's always there, and he's always there to support me, and I believe I will win over it and that's my goal."
The English-born, Australian-raised star set up the Olivia Newton-John Cancer and Wellness Research Centre in Melbourne after she survived breast cancer in 1992.
She discovered that her breast cancer had returned last year and had spread to her spine. Last August, she said she was "feeling great" after receiving further cancer treatment.
Newton-John said she has moments of fear: "There are moments. I'm human. So if I allow myself to go there, I could easily create that, you know, big fear," she said.
However, the actress added that she is staying positive about her situation.
"By having a focus on other things and not thinking about yourself all the time. There are other people out there doing much, much worse than me," she said.
"I'm a very privileged person and I'm very aware of that. I live in a beautiful place, have a wonderful husband, all these animals I adore, I have an incredible career - I have nothing really to complain about."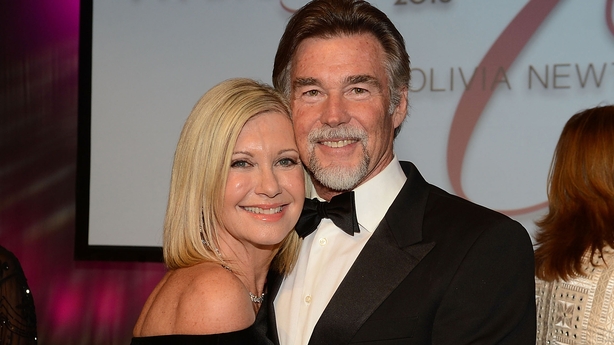 The singer also said she was hopeful that growing cannabis for personal medicinal use would become legal in Australia, like in California.
"In California it's legal to grow a certain amount of plants for your own medicinal purposes. So he (husband John Easterling) makes me tinctures. It's hard to say, they help with pain," she said.
"I'm very lucky that I live in a state where it's legal and that I have a husband that is a plant-medicine man.
"My dream is that, in Australia soon, it will be available to all the cancer patients and people going through cancer that causes pain."
In Australia, medicinal cannabis is legal by prescription from doctors for certain illnesses, although the laws governing its use varies from state to state.