Domhnall Gleeson has said he made the "terrible mistake" of reading the Star Wars: Episode IX script and is now in terror of letting something slip because he knows the whole story.
The Dublin actor, who is currently filming his role as General Hux in the blockbuster, told the MTV podcast Happy Sad Confused that his "nightmare is falling asleep on public transport".
Am I stalking Domhnall Gleeson or is Domhnall Gleeson stalking me? Please enjoy his 3rd trip to the #happysadconfused podcast! We chat #TheLittleStranger, almost spilling Episode IX secrets (yes they actually let him read the script), & more! https://t.co/KKwT2MyCe2

— Josh Horowitz (@joshuahorowitz) August 30, 2018
"The nightmare is you wake up on a plane and someone's dictating," he explained to host Josh Horowitz.
"You wake up and your mouth is shaping words. You wake up and you're like, 'Skywalker did this'.
"And then you realise you don't know how long you've been speaking. And there's a kid filming, there's somebody writing down. And because you're in the air, you say, 'We need to have a talk before we land - I can access my bank account'."
Gleeson, who was in New York at the time of the interview for the premiere of his new film, Lenny Abrahamson's supernatural drama The Little Stranger, said that even saying the most obvious thing imaginable about Star Wars becomes a problem.
"Last night at the The Little Stranger premiere, somebody asked me about Star Wars [Episode IX] and I used the word 'epic'," he recounted.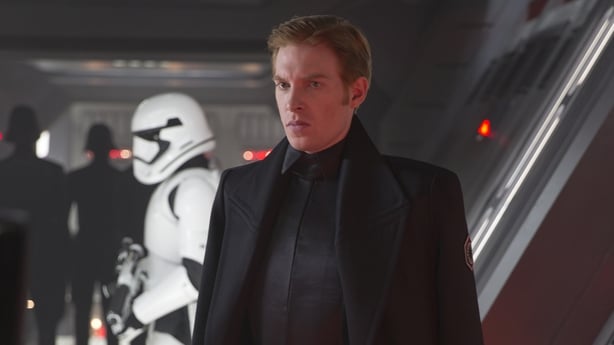 "And that became, the guy was telling me that basically the only thing that has been reported today from the screening of Little Stranger last night was the fact that 'idiot' Gleeson described Star Wars as 'epic'.
"I thought, 'If there's a word you can use to describe every Star Wars movie, it's 'epic', so I think I'm in safe territory there...' So, it's hard to describe it!"
The Little Stranger opens in cinemas on September 21. Star Wars: Episode IX opens on December 19, 2019.
We need your consent to load this YouTube contentWe use YouTube to manage extra content that can set cookies on your device and collect data about your activity. Please review their details and accept them to load the content.Manage Preferences