Eminem has sent fans into a frenzy by dropping a surprise album in which he criticises a number of young rappers and makes reference to Donald Trump and Harvey Weinstein.
The 45-year-old Detroit rapper announced his new record, titled Kamikaze, on Twitter. He wrote to his 21 million followers along with a link to the music: "Tried not 2 overthink this 1...enjoy". 
The album notes on Apple Music prepare listeners for the content of the 13-track album, saying: "Shady punches back, and he's naming names."
Tried not 2 overthink this 1... enjoy. 🖕#KAMIKAZE Out Now - https://t.co/ANw73KbwMt pic.twitter.com/qfQoTYBTUy

— Marshall Mathers (@Eminem) August 31, 2018
The artwork consists of the tail of a military plane, reminiscent of the cover of the Beastie Boys' 1986 album Licenced to Ill.
Executive-produced by Eminem's longtime collaborator Dr. Dre, Kamikaze features guest slots from Jessie Reyez, Joyner Lucas, Royce Da 5'9" and his manager, Paul Rosenberg.
Eminem also gave fans a preview of one of the tracks Venom, tweeting a 15 second video of the song which will appear in the upcoming superhero movie starring Tom Hardy.
.@VenomMovie pic.twitter.com/TBPdhaf2WR

— Marshall Mathers (@Eminem) August 30, 2018
On the album's opening track, The Ringer, Eminem appears to suggest that following his freestyle rap at the BET Hip Hop Awards last year when he slammed US President Donald Trump, that he was investigated by the secret service.
He says "Agent Orange"..."just sent the Secret Service / To meet in person to see if I really think of hurtin' him / Or ask if I'm linked to terrorists."
He also says of Trump: "I empathise with the people this evil serpent sold the dream to that he's deserted."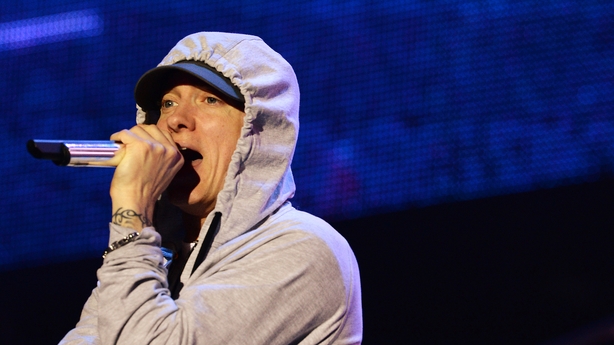 Eminem also throws shade at young rappers who use "a couple of ghostwriters".
In a widely-criticised lyric, the rapper also refers to Tyler, the Creator using a homophobic slur.
Not Alike includes a reference to disgraced Hollywood producer Harvey Weinstein, who is facing sexual assault charges after a number of allegations were made against him, which he denies.
Eminem raps about Weinstein and his "bathrobe hanging open".
Eminem's previous studio album, Revival, was released in 2017, and Kamikaze seems to contain references to the negative feedback 
"How do I say this?" he raps on Fall. "Last year didn't work out too well for me."
The album also contains a skit featuring a voicemail from his manager, Paul Rosenberg.
"Are you really going just to deride everybody who you don't like what they have to say about you or the stuff you're working on?" Rosenberg asks Eminem. "I don't know if that's really a great idea."
Fans have been heaping praise on the record on Twitter.
What artist you know that drops an album without saying a word about it and its #1 trending in less than 30 mins? 🤣 @eminem is a rap god

— Lance Stewart (@Lance210) August 31, 2018
Air pods in snug...#Kamikaze on ALL DAY as I break down the words of the Mad KING @Eminem

You ALL woke up a MONSTER with this one!!!

👑🐐👑🐐👑🐐👑🐐👑🐐👑

— Theo Rossi (@Theorossi) August 31, 2018
Goodness gracious @Eminem is the #GOAT. #kamakazi is on repeat, all day. Loud. Wow.

— Carson Daly (@CarsonDaly) August 31, 2018
Eminem is the best ever👑 it's not even up for debate he's the greatest full stop. 🐐🐐🐐🐐🐐 #eminem

— Jake Lockwood (@jakesamuel_) August 31, 2018
Eminem just destroyed everybody in "The Ringer" don't @ me 👀

— YVNG FRENCH PAPI 👑 (@djxvertigo) August 31, 2018
Eminem has just dropped his best album since Eminem show and it's been done with no promotion at all #KAMIKAZE

— Liam Wilson (@LAWilson86) August 31, 2018
Everyone giving Eminem the respect he deserves for this album 🐐🙏🏼

— Branden Pulleyblank (@BrandenP21) August 31, 2018
Damn. @Eminem all the Yes'!! 😍 #Kamikaze

— PAIGE (@RealPaigeWWE) August 31, 2018