RTÉ 2FM's Jenny Greene has said that she doesn't care what her programme with Nicky Byrne on the station is called, following criticism that The Nicky Byrne Show with Jenny Greene does not give her equal billing.
Greene was a guest on The Ray D'Arcy Show on RTÉ Radio 1 on Friday, and told the host she did not want to change the name of the programme she co-presents with Byrne.
"I find this amazing. It's been nearly five years now and people are still [talking about it]," she said.
"I just wonder if we decide at any point to change the name of the show, which we've no plans to do - personally, I don't actually want to change the name of the show - I'm just wondering what will be the next thing to annoy people. It'll probably be me!"
"At the moment it's The Nicky Byrne Show with Jenny Greene - that's not equal billing," said D'Arcy.
"I consider it equal billing!" said Greene. "I've no issue with it and to be fair, when we started the show first I'd never done daytime radio. I was in a room by myself playing records. I didn't consider myself a presenter. And I was very happy to do that.
"I'm extremely happy with the show and, like, we've no issues. Nicky doesn't care what it's called, same as I don't care."
Greene then revealed: "We actually - which nobody knows - had a conversation quite a while back where he said it to me, 'Why don't we change it?'
"I said, 'If we change it now we're actually making an issue of it; we're making it seem bigger'. So I was like, 'Just leave it - doesn't bother me'."
"And what were you going to call it if you did change it?" asked D'Arcy.
"It probably would've just been our two names," Greene replied. "It doesn't matter to me what it's called! And just the principle of it now - I'm not changing it!"
"But people are, like, indignant on your behalf," said D'Arcy.
"I know!" said Greene. "And I'm like, 'Why?' I don't care!"
"Well, we live in a world now where people are giving out about the number of female voices on air etc," offered D'Arcy. "And then they cite your programme - 'Look at that show! Nicky Byrne getting top billing! Poor Jenny Greene! Relegated to a sidekick!'"
"Isn't it a real Irish thing?" asked Greene. "People just want to fight your corner.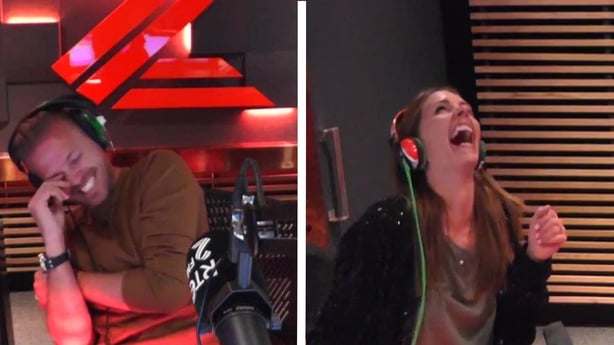 "I actually think you're better off being the underdog, because if it was equal billing we'd both get annihilated on a daily basis! It kind of takes the heat off a little bit. They're like, 'I won't give out about it because, God love her, she's doing that show every day!'"
"So you're happy?" asked D'Arcy.
"I'm very happy," Greene answered. "I love coming into work."
"So the message for everybody is, 'Don't get annoyed on my behalf?'" concluded D'Arcy.
"That's probably the PC version for air," said Greene. "Thank you everyone, I'm fine. I'm not there under duress!"
Greene agreed with D'Arcy that she and Byrne have a "lovely chemistry" together on air.
"I have to say, when we started the show we didn't really know each other. We'd met a couple of times," Greene recounted.
"And since then... You spend four hours literally every day with someone - more than you do with your own family. And it's a bonus when you get on, but we actually get on amazingly.
"I would consider him a very close friend now. He's my go-to in an emergency that I will always phone, which I never thought that would happen."
Greene is in Galway this weekend for the sold-out 2FM Live with Jenny Greene & the RTÉ Concert Orchestra show as part of the Galway Arts Festival.
Stage Times for Galway Arts Festival Sunday @RTE2fm @rte_co #2fmlive

7-8pm - Elaine Mai

8-8.50pm - Jenny Greene (DJ Set)

9pm - RTE Concert Orchestra / Gemma Sugrue / Jenny Greene pic.twitter.com/YfhKOvC5mw

— Jenny Greene (@djjennygreene) July 27, 2018