If you're going no further than the sofa, here are some tips on what's worth watching on the box between Friday and Sunday. As ever, it's a busy one . . . especially if you're an ABBA fan.
Pick of the Weekend
The Joy of ABBA, 11.00pm Friday, BBC Four
If you're looking forward to Mamma Mia! Here We Go Again here's something to really get you in the mood.
Between 1974 and 1982 ABBA had a vice-like grip on the single and album charts across the globe, but divided critical opinion. As uncool as they were popular, it was only in more recent times that they've been universally praised.
This excellent documentary (originally aired in 2013) explores how they raised the bar for pop music as a form and made Planet Pop fall in love with the sound of Swedish melancholy.
Following that, at midnight there's ABBA at the BBC, a fascinating compilation of many of the band's appearances on the Beeb.
Also: look out for Mamma Mia! It's on at 9.30pm on Sunday on RTÉ One.
New or Returning Shows
The Crystal Maze, 8.00pm Friday, Channel 4
Richard Ayoade returns with a new run of everyday adventurers hoping to make it to the Crystal Dome, starting with The Gamers.
Will a team comprised of people paid to play computer games for a living be able to nerd their way to victory? The Maze is as ever full of mad and wonderful surprises, but nobody could have predicted finding an unexpected portal into the TV quiz show Tipping Point.
Francis Brennan's Grand Tour of South Africa, 8.30pm Sunday, RTÉ One
Francis Brennan takes twelve paying tourists on the surprise trip of a lifetime. In tonight's programme Francis's guests meet up at Dublin airport and their mystery destination is revealed - South Africa. After a 19-hour flight he gets straight down to business, taking them on a tribal tour.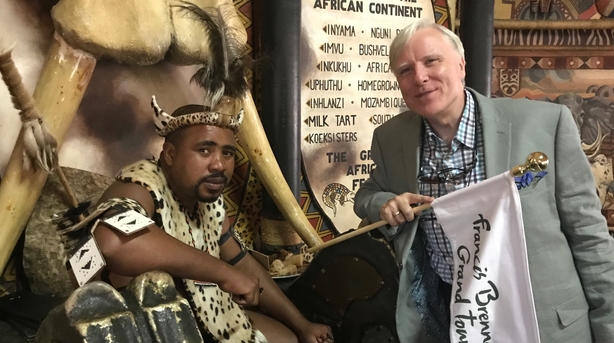 Stan Lee's Lucky Man, 9.00pm Friday, Sky One & NOW TV
Stan Lee's hit crime drama returns and this time, the bracelets draw Harry (James Nesbitt) to Hong Kong, and into a clash with possibly his greatest nemesis yet.
Professional killer Samuel Blake (Spooks' Rupert Penry-Jones) is a shady sort with contacts on both sides of the law and a lifelong mission to make the bracelets his.
But that's not all. Following Isabella's death, Harry is a wanted man and is on the run with Eve. And worse still, Suri is the one charged with bringing him to justice.
Here's Stan Lee explaining the inspiration behind the series:
Room 101 Extra Storage, 11.05pm Friday, BBC One
Frank Skinner hosts the comedy panel show as Charlie Brooker, Scarlett Moffatt and Pearl Mackie compete to have their pet hates and peeves consigned to Room 101. Topics include Crocs, mosquitoes and having your hair cut.
Creedon's Road Less Travelled, 6.30pm Sunday, RTÉ One
Motoring on three different routes and avoiding the motorway infrastructure, John Creedon travels the scenic landscapes and streetscapes and brings to life the stories that lie beneath the tarmac and fields along the road less travelled.
He begins on the Cork-Dublin route and the journey is the road used before the M8 was built. Along the way he goes to Kilworth Camp to relive his days in the FCA, where the Irish Army puts his shooting skills to the test.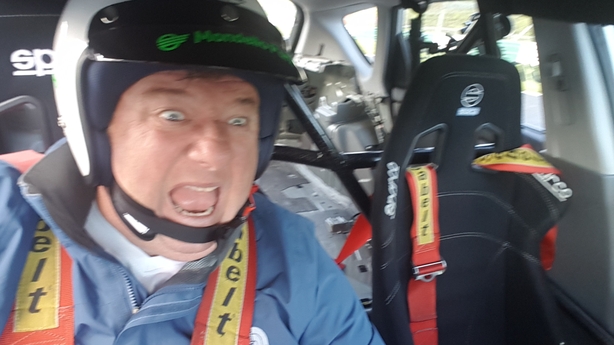 Ending this Weekend
The Voice Kids, 8.00pm Saturday, TV3
The karaoke contest for kids concludes as six young hopefuls go head-to-head to convince the British public they deserve the title of The Voice Kids champion.
Only one singer can be victorious and walk away with £30,000 towards their musical education and a family holiday to Disneyland Paris.
Atlanta, 10.00pm Sunday, Fox
It's the second season closer of Donald Glover's quirky look at life for two African American cousins. It's been patchy, but when it's good it's been absolutely brilliant.
At a parent-teacher conference, Lottie's teacher informs Van and Earn that their daughter is gifted like Earn and requires a transfer to an expensive private school if she wants to reach her full potential.
The Best of The Late Late Show, 9.35pm Friday, RTÉ One
It's a look back to the tribute night for the late Big Tom in the company of some of the biggest names on the Irish country scene, including Daniel O'Donnell, Nathan Carter, Gloria, Philomena Begley and Jimmy Buckley.
Marvel's Agents of SHIELD, 9.00pm Sunday, E4
The fifth season of the adventure-drama following the missions of Phil Coulson and his squad of agents concludes.
Coulson's life or death is the challenge that the team find themselves facing as the wrong decision could cause the destruction of Earth.
Smashing Hits! The 80s Pop Map of Britain and Ireland, 10.00pm Friday, BBC Four
In this third and final episode, Midge Ure and Kim Appleby visit London and Manchester, the two cities that did battle with each other for musical pre-eminence as 80s music turned towards the new sounds of dance.
Star interviewees include Denise Pearson from Five Star, Soul II Soul's Jazzie B, Mark Moore of S'Express, Shaun Ryder from The Happy Mondays and Peter Hook of New Order.
New to Download
Amazing Interiors, from Friday, Netflix
They might look ordinary on the outside, but inside these stunning homes have some jaw-dropping secrets to reveal.
Jimmy: The True Story of a True Idiot, from Friday, Netflix
In the 1980s, a simple-minded fool named Hideaki meets comedy legend Sanma, changes his name to Jimmy and becomes a comic superstar.
Bulletproof: Season 1, from Friday, Sky Box Sets
All six episodes of the buddy cop drama starring Ashley Walters and Noel Clarke. It promises an action-packed ride through the streets of London as indomitable law-enforcing duo Pike and Bishop attempt to bring down Thameside's meanest criminals.
Final Space, from Friday, Netflix
Astronaut Gary Goodspeed and his adorable, planet-killing alien pal go on wild interstellar adventures as they try to discover where the universe ends.
Dark Tourist, from Friday, Netflix
From a nuclear lake to a haunted forest, journalist David Farrier visits unusual - and often macabre - tourism spots around the world.
Don't Miss
Artist in Residence: the Sex Clinic, 10.10pm Sunday, Channel 4
Hard to figure out how seriously to take this new three-part series - if at all - but it certainly looks intriguing.
Bryony Kimmings is apparently a bold, sweary performance artist. Launching Artist in Residence, a new strand in which artists immerse themselves in unlikely and fascinating places, Bryony take up residency in one of Britain's busiest sexual health clinics.
She asks patients to open up about the most intimate details of their sex lives and love lives, then follows them home and creates extraordinary performances.
She makes a radical dating guide for newly-single Trevor; a musical performance about sexual confidence for carefree millennial Salome; and she also helps two sex workers, Jodi and Tina, lead a parade through a city where sex is often easier to find than love.
Not for the faint-hearted, obviously.
Weekend Movies
Bridge of Spies, 9.40pm Saturday, RTÉ One
Directed by Steven Spielberg, Tom Hanks leads a cast in this superb spy drama that includes Mark Rylance and Alan Alda - with Rylance in particularly impressive form.
During the Cold War, an American lawyer, James Donovan, is recruited to defend an arrested Soviet spy in court, and then help the CIA facilitate an exchange of the spy for the Soviet-captured American U2 spy plane pilot, Francis Gary Powers.
Mission: Impossible - Rogue Nation, 9.00pm Sunday, TV3
Timely screening of the fifth Mission: Impossible film, given that the sixth goes on release next week (and it's outrageously good too).
After intercepting nerve gas being sold to Chechen terrorists in Minsk, IMF agent Ethan Hunt is determined to prove the existence of the Syndicate, even though the CIA thinks otherwise.
Box Set Binge
Anthony Bourdain: Parts Unknown, Netflix
The CNN original series follows the late Anthony Bourdain as the much-loved chef travels to extraordinary locations around the globe to sample a variety of cuisines.
In season one alone Bourdain visits Myanmar in Asia, Koreatown in Los Angeles, Tangier in Morocco, the Congo, several regions of Colombia and post-war Libya. He also travels across Canada by rail and visits the far reaches of the indigenous Andes in search of a rare variety of wild Cocoa.