If you're checking out the sofa at any stage this weekend, here are some tips on what's worth watching on the box between now and Sunday night.
Pick of the weekend
Dame Shirley Bassey - A Celebration, 10.40pm, Saturday, RTÉ One
Hosted by comedian David Walliams, this glittering evening of music and entertainment celebrates the 80th birthday and the incredible career of music legend Dame Shirley Bassey.
Born in a poor area of Cardiff, Wales, in the 1930s, Bassey grew up to become one of the most celebrated and iconic performers of the past 60 years. She signed her first artist contract at age 16, was one of the first UK entertainers to crack America and has performed for presidents and royalty alike.
This film – a mix of entertainment, comedy, candid interviews and performances by Bassey herself – offers viewers an exclusive glimpse into her extraordinary life. Performances include Bond classic Goldfinger as well as I Who Have Nothing, The Lady is a Tramp and I Am What I Am.
Here's Walliams attempting to serenade Bassey with her James Bond classic...
Don't Miss
Poldark, 9.00pm, Sunday, BBC One
In the third episode of the current series Ross makes his maiden speech in parliament and finds himself a little notoriety in London, where he also re-unites with a now adolescent Geoffrey Charles at the Vauxhall Pleasure Gardens.
Meanwhile in Cornwall, Demelza contends with a failing mine and fixing Drake's broken heart. Dwight and Caroline welcome a baby daughter, Sarah, into the world - but Dwight's happiness is short-lived as he makes a disturbing diagnosis.
Ossie tends to a dying parishioner, Nathaniel Pearce, who confesses to losing his clients' money on bad investments, money secured in Pascoe's bank. Ossie takes the information to the Warleggans in the hope of selling the information to help pay for his Rowella habit.
And George hosts an extravagant party at Trenwith in the hope of buying his way back into Parliament, via purchasing a borough. His new friend, the dangerous socialite Monk Adderley, makes the necessary introductions to set George on his way....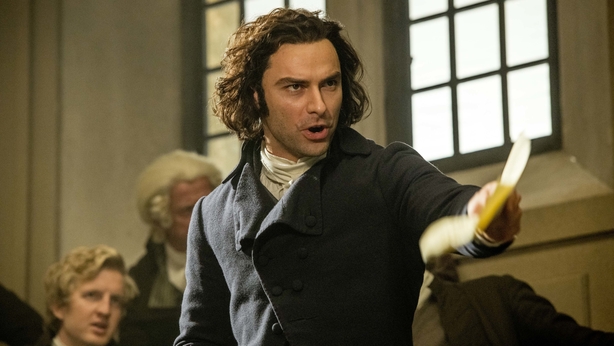 Coronation Street, 8pm, Friday, TV3
There's lots of drama going down on the cobbles as Eva is horrified to discover that Johnny has started custody proceedings and turns to Adam.
Adam shows Eva a fake DNA report he's made stating that he's Susie's father and suggests it's a way of avoiding a custody battle. Will Eva agree to his plan?
Meanwhile, Beth is outraged to realise that Sharon is the mysterious Mrs B, and far from the elderly lady Kirk made out. Enjoying Beth's obvious fury, Sharon compliments Kirk on the shirt she bought him. Fuming, Beth accuses a protesting Kirk of having an affair with Sharon.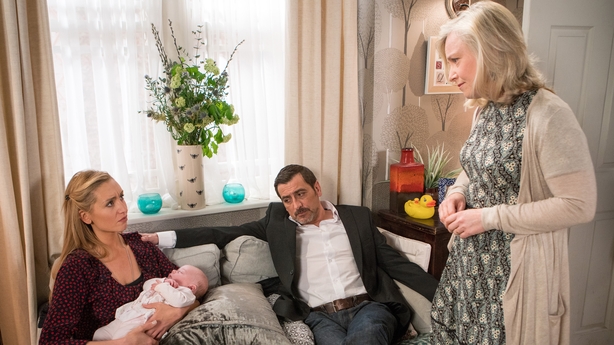 Ending this weekend
All Round to Mrs Brown's, 9.30pm, Saturday, RTÉ One
The last episode in the series of All Round To Mrs Brown's sees Agnes pack the house full of fantastic guests, including American chatshow king Jerry Springer and Culture Club icon Boy George, and his mammy Dinah O'Dowd.
Plus Dermot and Buster have fun with survival expert Ray Mears who fronts their survival masterclass and Foley's gets ready for Years and Years to play out the series in style.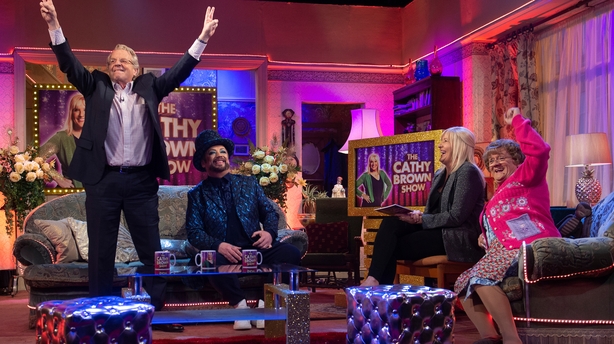 Hawaii Five-0, 9.00pm, Sunday, Sky One
Season eight of the action-packed US drama, starring Alex O'Loughlin, Scott Caan, Ian Anthony Dale and Meaghan Rath, concludes in a fittingly gripping fashion.
The team are on high alert after a Russian submarine emerges off the coast of Oahu. The quickly uncover a top-secret spy ring operating on their doorstep, and it's a race against time to stop it.
New to Download
Marvel's Luke Cage, Netflix, from Friday
The second season of the American web television series Luke Cage, which is based on the Marvel Comics character of the same name, sees Cage become a hero and celebrity in Harlem after clearing his name, only to face a new threat.
Weekend Movies
Muppets Most Wanted, 5.05pm, Saturday, BBC One
Dominic Badguy, the Muppets' new manager, convinces the gang to embark on a world tour. Kermit the Frog doubts that it's a good idea -- a feeling that's proven right when look-alike Constantine escapes from prison, takes Kermit's place, and lands Miss Piggy's sweetie in a Siberian prison. While the frog tries to convince his captors of his true identity, Constantine and Dominic are free to carry out their plan to steal London's crown jewels.
Whiplash, 11.30pm, Saturday, RTÉ 2
Andrew Neiman is an ambitious young jazz drummer, in pursuit of rising to the top of his elite music conservatory. Terence Fletcher, an instructor known for his terrifying teaching methods, discovers Andrew and transfers the aspiring drummer into the top jazz ensemble, forever changing the young man's life. But Andrew's passion to achieve perfection quickly spirals into obsession, as his ruthless teacher pushes him to the brink of his ability and his sanity.
Pretty Woman, 9.30pm, Sunday, RTÉ One
In this modern update on Cinderella, a lady of the night and a wealthy businessman fall hard for one another, forming an unlikely pair. While on a business trip in L.A., Edward, who makes a living buying and breaking up companies, picks up a hooker, Vivian, on a lark. After Edward hires Vivian to stay with him for the weekend, the two get closer, only to discover there are significant hurdles to overcome as they try to bridge the gap between their very different worlds.
Box Set Binge
Football Free Zone, RTÉ Player
If you have had enough of the World Cup taking over the telly, the RTÉ Player are serving up a number of tasty treats that will quench your TV thirst. With a wide range of box sets on offer there is something for every non-football viewer. Check out gems such as The Is Us, Criminal Minds, Will & Grace and Grey's Anatomy...plus loads more!
Chat Show Line-Ups
The Graham Norton Show, 10.45pm, Friday, BBC One
There's never a dull moment on The Graham Norton Show, and as always, there are some great guests in the line-up.
Veteran popstar Cher will be dropping by for a chat to talk about her successful career to date and her upcoming Mamma Mia sequel alongside her co-star Christine Baranski.
Rupert Everett will be on the couch to talk about his Oscar Wilde biopic The Happy Prince and Game of Thrones actress Natalie Dormer will speak about her role in BBC's Picnic at Hanging Rock. Guaranteed lols - not to be missed!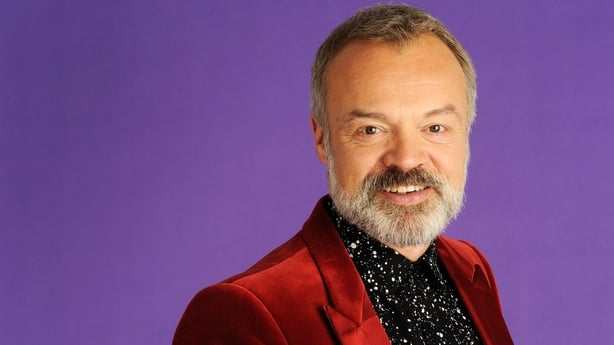 Best of the Late Late Show, 9.35pm, RTÉ One
Friday nights just aren't the same with the much-loved Late Late Show off the telly. Tonight, viewers can relive the best of the 2018's series. From a sing-along with the man who provided the soundtrack to the country, Christy Moore to Domhnall Gleeson taking us on a trip down memory lane.
Not forgetting, Tommy Tiernan explaining the kind eye and tennis legend Martina Navratilova making an appearance. And of course, who could forget Saoirse Ronan's funny tale about her mother's terrible directions?