Ed Sheeran has told RTÉ News that he is "honoured" to help the London Irish Centre, having played a fundraising show at the iconic Camden building on Tuesday night.
Sheeran, whose family roots are in Co Wexford, is both a patron and friend of the centre, with thousands donating £10 to enter a raffle to be in with a chance to win a ticket to see him perform at the centre's Camden base as only a limited number went on sale.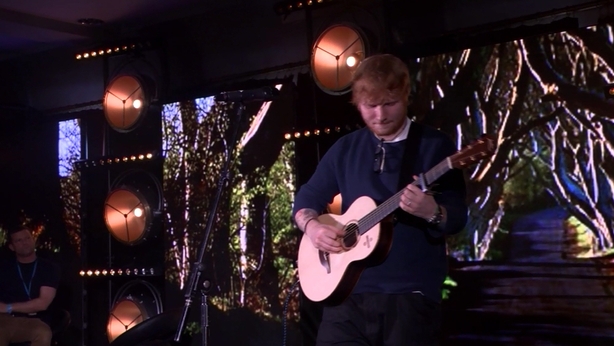 The money raised will go towards a new capital campaign to set out a new vision for the centre.
"It's brilliant, not just 'pure Irish', but people from all sorts of different heritage and lineage to be proud of their roots and support places like this because it does such good work," the singer-songwriter told RTÉ's London Correspondent, Fiona Mitchell.
"I'm honoured to be here today, and I'm glad it's raised a lot of money."
Ahead of the show, Sheeran was reunited with his old friend, fellow singer-songwriter Gary Dunne, who is the Director of Culture at the London Irish Centre - and someone who helped shape the direction of Sheeran's music.
We have a programme! pic.twitter.com/DhTZylUg7R

— Gary Dunne (@GaryDunne) June 19, 2018
"Gary taught [me] the loop pedal that I use," recounted Sheeran. "Gary was the first person I saw use a loop pedal and I got him to play a gig at my house when I was 15!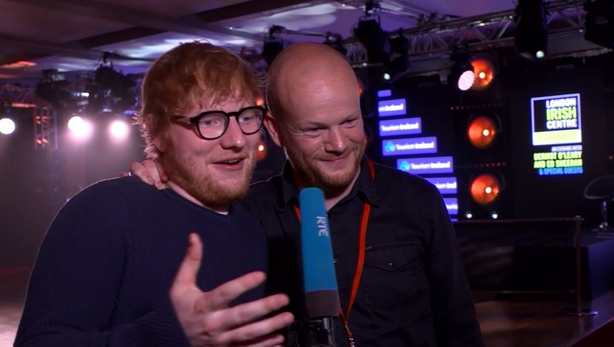 "It was kind of like, 'If you come over, my friends will all buy a CD!' So he came around and then he taught me how to use a loop pedal. And we've been friends ever since then."
Also joining Sheeran was X Factor presenter Dermot O'Leary, whose parents moved back from the UK to their native Wexford last year.
O'Leary joked that it was "first and foremost a Wexford night" at the London Irish Centre.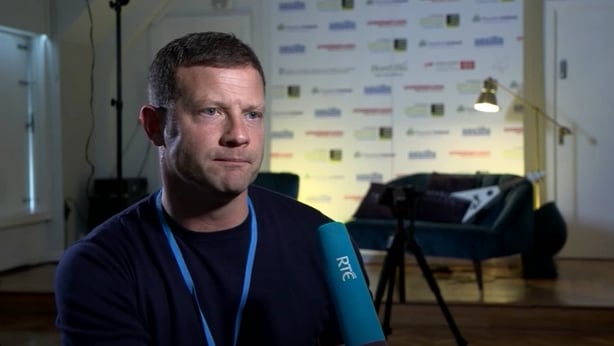 "Having lived in Camden now for a long time, and having lived in North London for pretty much half my life, it feels like in getting to know this place and the people working in it... it feels like somewhere that's got a great sense of its own heritage," O'Leary continued.
"And a very proud sense of the Irish in London, yet it's very much looking to the future and is as inclusive as it possibly could be."