Robbie Williams has moved to explain why he gestured with his middle finger during the opening ceremony of the World Cup in Moscow last week, saying he was under pressure and trying to give "a one-minute countdown" until the end of his performance.
The singer made headlines around the world after he was caught on camera with digit extended and joined ITV's Phillip Schofield and Holly Willoughby on the This Morning couch on Tuesday to reflect on the ruckus he caused in the Russian capital.
"I went to Russia and I don't know if you know, but I did the opening ceremony of a thing called the World Cup," Williams recounted.
We need your consent to load this YouTube contentWe use YouTube to manage extra content that can set cookies on your device and collect data about your activity. Please review their details and accept them to load the content.Manage Preferences
"The last thing you want to do there is to distract from anything..." offered host Schofield.
"Absolutely, of course," replied Williams. "They got me to go and do some singing. And I thought to myself, 'It's really important, at these kind of things, to not cause an international incident'. And you know what? I managed it." 
Williams explained he was "under a lot of pressure because there was one minute left".
"I didn't know how I was going to do half a minute, so I just did a one-minute countdown..."
"I can't trust me," he continued. "I don't know what I'm going to do at any time, and there's no sort of plan.
"The plan was, 'Sing in key, don't fall over'. That was the plan!"
Schofield then asked: "Did it just pop into your head, 'I think it'd be fun to do this'? Why?!"
"Nothing actually pops into my head," admitted Williams. "There's a block between me and sense. Then something happens and five minutes later I'm like, 'Did I just? Yeah, I did, didn't I? I did'."
With Williams linked - along with wife Ayda Field - to the vacant spots on the X Factor judging panel, Schofield had some doubts as to whether the star would be suited to the rigours of the show.
"I've got to ask you, then," he said. "The X Factor. Live telly. Really?"
"I look forward to when you have one contestant left!" laughed co-host Willoughby.
"If there is an X Factor in my future, whether it be this year or next year or never, I am scared for my own safety and health," Williams revealed. 
"But not because of the people out there, or the public, or Twitter or Instagram - my wife. She is a grade A+ student from Beverly Hills - incredibly square - and is like, 'Why would you do that?!'"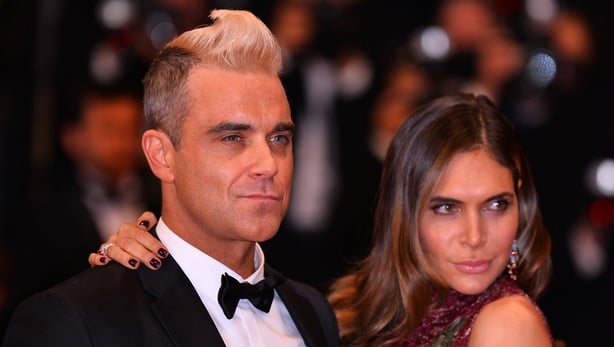 Williams went on to say that despite reports to the contrary, no X Factor deal has been done.
"I would understand if people read the reports that I was doing the X Factor and my wife was doing the X Factor," he said. "As it happens, people say that every year. We always say, 'No comment'."
Willoughby said X Factor boss Simon Cowell would "love" Williams to be a part of the show.
"There's a lot of me that would love to do it too, as it happens," answered Williams. "People are talking, but there's nothing signed."