Robbie Williams courted controversy by sticking his middle finger up at a camera while performing at the World Cup opening ceremony in Russia on Thursday.
The singer played his classic hits Let Me Entertain You, Angels and Feel at the ceremony, and the show almost went off without a hitch until it came time for Rock DJ, during which he 'flipped the bird' at a camera.
ITV cut back to their studio during Rock DJ, but US broadcaster Fox aired it in full.
Fox have since issued an apology for showing Williams' one finger salute with a spokesperson saying it was a "newsworthy event produced by a third party and carried live on Fox".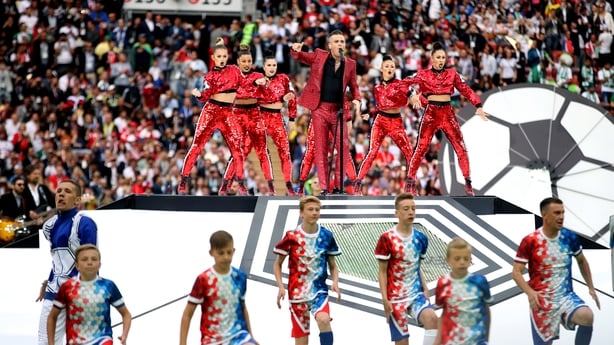 "As it was broadcast live, we did not know what would happen during Robbie Williams's performance and we apologise," the broadcaster said.
Williams was joined on the pitch by dancers wearing football-related costumes and people performing tricks with footballs.
For his worldwide smash hit Angels, Russian operatic soprano Aida Garifullina rode in on what appeared to be a large phoenix, turning the song into a duet.
Speaking ahead of his performance, Williams told ITV that it was a "pinch me moment" getting the opportunity to open the World Cup as an avid football fan.