Ireland's Eurovision hopeful Ryan O'Shaughessy kicked off a singalong to his track Together with the Swiss and Icelandic song contest contestants in Lisbon today and it sounded amazing.
The Eurovision delegations visited the Oceanarium in the Portuguese capital on Thursday where Ryan joined forces with his pal Ari Olafsson from Iceland and brother and sister duo Coco & Steph, aka 'Zibbz', from Switzerland for an impromptu rendition of his song.
Needless to say, it sounded very impressive.
Speaking from Lisbon, former Britain's Got Talent contestant and Fair City star Ryan said he was enjoying his time there and that his first rehearsal on Tuesday was "very enjoyable".
"The process and the speed with which the ESC conduct the operation is amazing, they're very nifty", he said. "It made it really enjoyable and just a lot easier for us. The sound was really good, the monitoring was really good which was something I was worried about, so there's nothing to worry about there.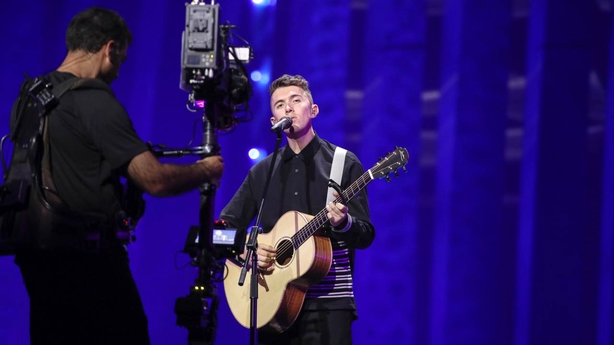 Ryan, who is performing in the first Eurovision semi-final on Tuesday May 8, said that when he's out there on the big stage he is thinking about "everything going to plan" and being "in order" because he has had a lot of input into the staging and lighting.
However, he says that when he takes to the stage in front of a live audience he will just want to deliver the best possible performance.
"When I step out on Tuesday it'll probably be a little bit different. When it comes to rehearsals that's the time in order to make mistakes and for things to be changed, so on Tuesday I'll be stepping out there with hopefully a different mentality and that's to give the best performance I can."
The singer-songwriter added that he's looking forward to seeing his friends, family and girlfriend who will be flying to Lisbon to support him.
"I've a lot of friends coming out, my mother and father, my nan and grandad", he said. "I'm looking forward to seeing my girlfriend who I haven't really gotten the chance to hang out with in the last few months because I've been away on tour and doing promo for the Eurovision.
"So she's out on Sunday so I'm looking forward to having some time to chill with her, she's always great to be around. She kind of keeps me chill and keeps me calm so I'm looking forward to seeing her."
Ryan will perform his track Together in the first Eurovision semi-final on Tuesday May 8. The second semi-final takes place on Thursday May 10, with the grand final set for Saturday May 12.