Westmeath band The Academic say it's a childhood dream to be supporting The Rolling Stones at Croke Park and they've also paid tribute to their old history teacher for first getting them into the veteran rockers.
Speaking to RTÉ Entertainment pitch side at Croke Park on Thursday, Academic frontman Craig Fitzgerald said, "We were on tour in Paris when we got the call and we were told to get anybody who wasn't in the band out of the room and we were told the news. We were shocked, excited and nervous."
The band, who scored a No 1 with their debut album Tales From The Backseat in January, are currently in the middle of sold-out UK tour and they also play their own headline show at Dublin's Iveagh Gardens in July.
Fitzgerald, Dean Gavin, and brothers Matt and Stephen Murtagh will be the only support act at the Stones' Croke Park gig on May 17. "It's a childhood dream to play in this venue with a band like The Rolling Stones so naturally enough we celebrated in Paris that night." said guitarist Gavin.
The Academic formed in school in 2013 and they credit their history teacher for first drawing their attention to the Stones. "Mr Fownes used to play Paint it Black with loads of historical footage over it so that was our first introduction to the Rolling Stones," said Fitzgerald.
The Rolling Stones are pleased to announce Ireland's favourite indie outfit @TheAcademic will be special guests at Croke Park, Dublin on May 17. After selling out shows across the US and Europe this year we are happy to welcome them to the No Filter tour! https://t.co/Ao9rEVijMX

— The Rolling Stones (@RollingStones) April 23, 2018
"Ruby Tuesday is just a childhood song for me so I've been a fan forever."
"The whole Sixties movement, the whole mentality behind the pop song back then really helped us with our songs so absolutely, they've been big inspirations." he added.
There's also been a strong reaction to the news of the Stones support gig at home in Westmeath. "They're blown away," said Gavin. "I only got to tell my parents yesterday because we were told to keep it hush hush. They were screaming down the phone. Couldn't believe it. Insane."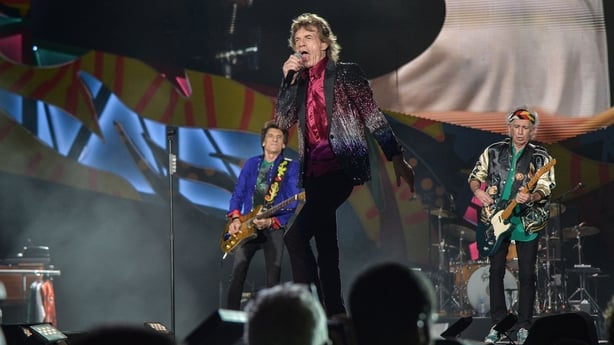 Promoter Peter Aiken, who first brought the Stones to Ireland to play at Slane Castle in 1982, said that Aiken Promotions gave the band a list of 20 Irish acts to choose from for the support slot.
"They came back pretty quickly and said The Academic were a good fit. I think they like to see up and coming bands like The Academic and it's not just that they're Irish, they're a good band as well." he said.
He added that the Stones are expected to be in Ireland for a few days and said the Croker gig was selling well.
"It's going well. The extra tickets we put on sale today for the pitch all sold out straight away. It's going very well, we still have some tickets. We had extra production tickets released last week but it's going to be a full house when the Stones walk on stage, that's for sure."
The Stones also announced the support acts for the UK leg of the tour earlier on Thursday.
Alan Corr @corralan