Mick Jagger has said he is "very thankful" for being allowed to have a career that spans over five decades and admits The Rolling Stones have no plans to slow down anytime soon.
The Stones have been touring for over 50 years, and while it doesn't get any easier as he gets older, the 74-year-old singer admits he does still really enjoy it.
Speaking on Sunday with Miriam on RTÉ Radio 1, the rocker told O'Callaghan that he doesn't take the band's success for granted and admits he is still amazed by their popularity. 
"I don't think you do things as quickly as you do when you're, like, 21, you do things much more quickly than you do when you're like, whatever age I am – I don't want to think about it really – but I still do things… I can write things really quickly now."
"It is a bit mind-boggling if you think about it, and it's not something to be taken for granted, I think…
"After all this time when there's so many musicians out there, there's so many great ones and there's so many people with great songs, and why would you still be in any way in demand."
"It's really a mystery, but I'm very thankful for it." 
The band is set to play Dublin's Croke Park on May 17 with the support act to be announced on Monday, and Jagger said he is really looking forward to rocking out in Dublin next month.
The highly-anticipated concert will be the longest of their upcoming European tour, according to the band's long-time tour manager. 
"It should be really fun, we haven't played in Ireland for ages and we're really looking forward to coming." 
Jagger also reminisced about the group's concert at Slane in 2007, adding: "It was such a beautiful setting. It was such a great night. I remember the Chieftains were playing there - it was a very good night in Slane."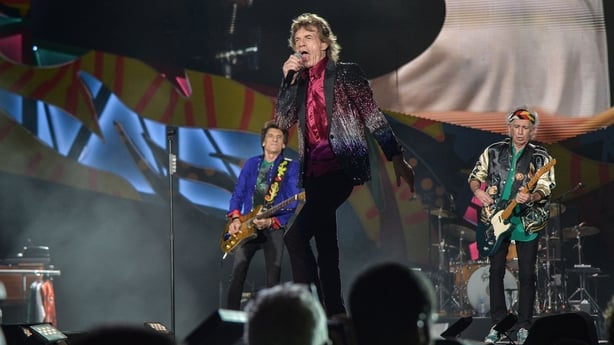 The Paint it Black hitmaker said he's still getting satisfaction out of performing and admits he wouldn't still be doing it if he didn't.
"It's still really fun, I don't think we would do it if it wasn't. There's always pluses and minuses. In the end when you get on stage and you're doing the music together it all gels and everyone is really happy being there and it all works perfectly and it's better than anything else." 
"My main job is to be the cheerleader for this band and sing - get out there and entertain and my other job is to write songs. There the most things I like doing. I love writing."
When asked if he has any rituals he likes to do before a gig, Jagger said: "You check the stage that you're going to be safe on it. Then you do you a physical warm-up routine and a vocal warm-up routine and choose your outfits.
"I don't have superstitions. I warm up the voice for 45 minutes before the show."
You can listen back to the full interview on Sunday with Miriam here