Ireland's Eurovision hopeful Ryan O'Shaughnessy has said he's going to "step it up" ahead of next month's contest in the Portuguese capital of Lisbon.
The 25-year-old Dublin born singer will be performing his track Together, which he wrote as part of a team of The Nucleus writers, in the first semi-final on Tuesday May 8.
The former Britain's Got Talent finalist spoke to RTÉ Entertainment at the pre-Eurovision Israel Calling event this week, where he revealed his confidence levels are high following a live performance in Tel Aviv's Rabin Square in front of a crowd of over 10,000 people.
Although he admitted the live performance in front of a huge crowd was "really intense," he said there was "great energy" and "great vibes" on the night.
The Skerries star said he's feeling confident about the upcoming contest in May.
When a #Eurovision dance off breaks out in Tel Aviv @Ryan_Acoustic breaks out his best #MichaelFlatley moves #IsraelCalling pic.twitter.com/kWUAnl53xG

— Entertainment on RTÉ (@RTE_Ents) April 10, 2018
"I felt confident about it from the start and I think I'm still on that wavelength," he said. "I'm trying not to overthink it too much and just do my best every time and practice makes perfect so the more we do it the better it's going to get.
"I think we're going to do now is to step it up every time with our performance and by the time we get to Portugal we'll have it nailed."
When asked if he enjoyed any other performances at Israel Calling, Ryan said "there's a lot of songs to take in, a lot of music", but singled out France's Madame Monsieur and Iceland's Ari Ólafsson for praise.
He added: "When you're performing like that you don't really have much time to take in other people's performances because you're thinking about your own. It's a bit selfish but that's the way it is. I know there were a lot of really good performances."
A group of 25 of this year's Eurovision contestants got a chance to bond and get to know one another at Israel Calling, and while Ryan says it's been "a really good party" he's hoping to get "a bit of downtime now in Dublin for a day".
The #Eurovision class of 2018 🙌🏻#IsraelCalling pic.twitter.com/6iUbMMIZWK

— Entertainment on RTÉ (@RTE_Ents) April 9, 2018
"I might get an hour to sleep at some point", he joked, before continuing: "There's two more parties to go and a London show before we get to Lisbon and a full week of rehearsals so it's just go go go.
"I'm looking forward to the 13th of May and being able to just relax. The lead up to that is going to be really intense but I like being busy and it's been a lot of fun."
When it was suggested that the Eurovision hopefuls seem more like friends than competitors, Ryan said: "It's kind of that way, yeah. Everybody's getting along, there's not so many false attitudes, everybody's really positive and just happy to get along with one another which is really nice.
"There's nothing worse that when people are trying to be something else. So that's really positive, I like that a lot and I'm making some really good friends, I'm gravitating towards some people more than others, and I think that's just the whole spirit of the event. It's a really lovely vibe."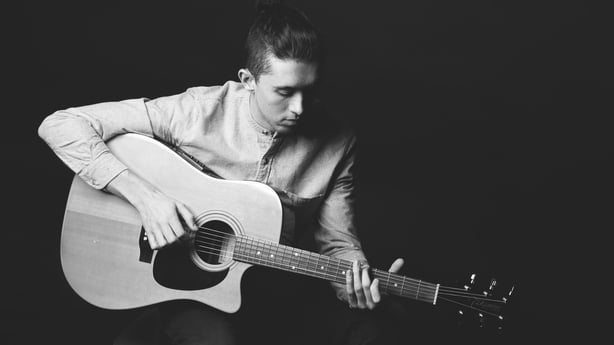 The singer-songwriter says he's relishing the chance to visit other countries with the Eurovision class of 2018 and make the most of the opportunity.
"We're all travelling from country to country and we're going to meet each other in different places, it's a rare gathering, so I think everyone knows that and everyone feels that energy and it's about really making the most of it", he said.
Ryan will perform his track Together in the first Eurovision semi-final on Tuesday May 8. The second semi-final takes place on Thursday May 10, with the final set for Saturday May 12.