Former RTÉ News anchor Aengus Mac Grianna relived some of his classic bloopers on the Ray D'Arcy Show on RTÉ One on Saturday night, laughing that "things just technically always seemed to go wrong".
The much-loved broadcaster, who signed off from RTÉ News on St Patrick's Day, became the interviewee for a change as host D'Arcy put it to him that he had "a higher hit rate than most when it comes to bloopers".
We need your consent to load this rte-player contentWe use rte-player to manage extra content that can set cookies on your device and collect data about your activity. Please review their details and accept them to load the content.Manage Preferences
"I think somebody had it in for me, really!" Mac Grianna laughed.
"I don't know why or how! Even one of them, where I had to say to the autocue person, 'Can you just go back to the top?' I mean, literally, the autocue turned into what looked liked Sanskrit!
"I looked at it and went, 'What is that?!' It was illegible! So then they were constantly clicking the button - reset! reset! reset! - and then finally it kind of came back up. 
"But things just technically always seemed to go wrong! And they were technical issues."
"Except for..." teased D'Arcy.
"Except for... I can't even say his name!" laughed Mac Grianna. "Abramovich."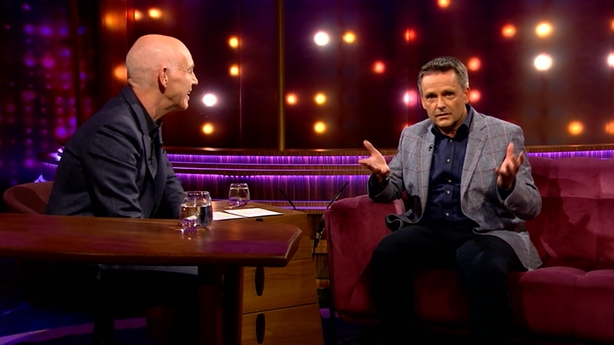 "And what about 'Angeleeka Houston'?" D'Arcy pressed.
"Oh Angeleeka, yeah - that caught me as well! That wasn't a technical issue!"
"Our favourite one... Do you have a favourite?" asked the host.
"Well I suppose it has to be 'the powder one' - the 'what?!'" replied Mac Grianna, referring to his stint as a viral internet sensation after footage of him touching up his make-up and fixing his tie aired back in 2013.
"Coincidentally, that's our favourite as well," said D'Arcy "And we have it lined up!"
What?!! @Aengy2 signs off RTÉ News for the last time. Beir bua Aengus! pic.twitter.com/SOBhhUeuQn via @rtenews

— RTÉ (@rte) March 18, 2018
After watching "the most famous 'what?!' ever uttered on Irish television", D'Arcy said that "you couldn't write that".
"The fact that it went global..." said Mac Grianna. "If you tried to do that you just couldn't pull it off!"
Looking to the future, Mac Grianna said he is thinking of going back to university in September.
"I hope in about two weeks' time then to head off and walk the 800km of the Camino [de Santiago] on my own. I will start and I will just work my way right across - start in France, over the Pyrenees and straight across then. I just said, 'That's just time for me and see where it takes me'."