Model Alannah Beirne, who will be returning to Dancing with the Stars for the grand final this Sunday, has revealed who she would like to see lifting the glitterball trophy.
Alannah, who was eliminated from the competition earlier this month, says that she'd love to see actress Deirdre O'Kane win the competition, particularly as it coincides with her 50th birthday this weekend.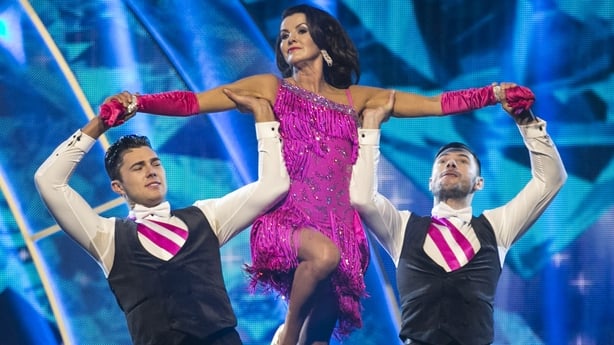 Speaking to RTÉ Entertainment, Alannah said: "I'd like to see Deirdre win. She definitely deserves it. Obviously the rest of them deserve it as well but just because it's her birthday next weekend, she's been my roomie for the entire series, and she's just a great girl, I absolutely love the woman.
"As well, for a 50-year-old woman to go onto Dancing with the Stars and to perform like she has, she's really improved, I'd be really happy to see her win."
"At the same time, Anna and Jake would be great ambassadors for Dancing with the Stars and they'd do very well off the back of it as well. Any one of them deserve it", she added.
Alannah was back in rehearsals this week for a special group performance alongside the rest of this season's contestants. She said she's "so excited" to be back on the show for the final.
"I had my training there yesterday with the rest of the gang. It was sad in a way because it was our final rehearsal but it was so nice to see everyone again", she said. "I hadn't seen Norah Casey in months, Tomas was there, Maia, everyone came back. And then we had a drink, well I had a coffee because I had a shoot afterwards, but we got to just chill after rehearsals and catch up with each other."
"They have the pro dancers dance on Sunday, our dance, we're all getting together and dancing again, and then the hosts Amanda and Nicky and the judges are dancing as well. So this weekend is going to be very interesting!"
The Britain's Next Top Model finalist said she didn't get to see the three finalists, Anna Geary, Deirdre O'Kane or Jake Carter, and can't imagine how they're feeling coming into Sunday's show.
"To be honest I don't know how they're coping because I remember when I went out, my body was in so much agony, so I can't imagine what Deirdre's going through! Fair play to them though, I'm really excited to see who'll get the trophy", she said.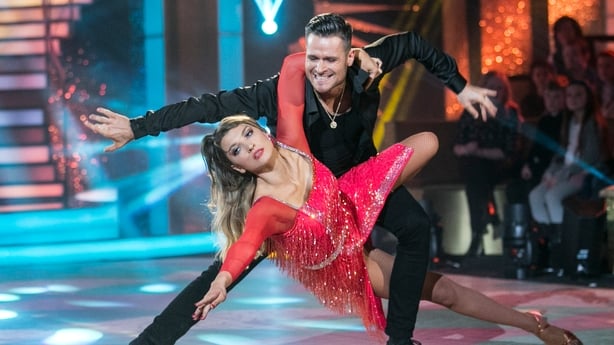 The model said there were "so many enjoyable moments" from taking part in the show and that she's made firm friends.
"Even just backstage before the live show, we would all sit in, Jake would play some music, then Bernard would pick up a guitar, then Marty and Erin would start dancing, it was gas!", she said with a laugh.
"It has been great, I'm looking forward to seeing what happens. We're all saying that we're going to go to dance classes and I definitely want to keep it up.
"I was chatting to Erin yesterday as well and she just feels like completely empty after leaving and as if she's just dropped her dream job. Myself and Erin are similarly in the same boat because I developed a real passion for dancing and I absolutely loved it and so did she, so the two of us are definitely going to go to dance classes and keep it up."
The Dancing with the Stars finale is on RTÉ One on Sunday at 6.30pm.