Erin McGregor has said she's "heartbroken" that her time on Dancing with the Stars is over after she was eliminated in Sunday's semi-final.
She narrowly missed out on next week's grand final after she and her pro dancer partner Ryan McShane competed in the dreaded dance-off against Jake Carter and Karen Byrne.
It was a nail-biting elimination with judge Julian Benson first choosing to save Jake with fellow judge Brian Redmond electing to save Erin. The final decision was down to third judge Loraine Barry, who picked Jake for the final.
Erin said going out of the competition in that manner was "bittersweet" but that she was happy she got to dance again as "every second on that dance floor was amazing."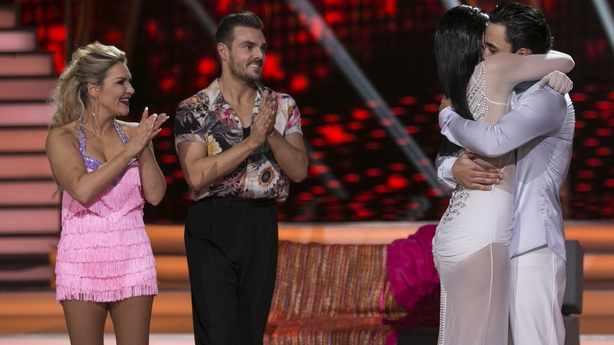 Speaking to RTÉ Entertainment, she said: "I suppose it was bittersweet because you have this little glimmer of hope, you're like 'is it me, could I be in the final?'
"I probably would have thrown myself onto the ground and started crying because I had a hard aul week. But, I had a great run and I'm still going to be in the final this weekend with the rest of my friends and I can't wait to see them.
"They've all rang me to see how I was and how I was feeling because there's like an emptiness."
She admitted that she's "heartbroken that it's over," saying being sent home from the show is like "getting your dream job and then being sacked."
Yeow! Let's go @GregorErin! #FirstUp #DWTSIrl pic.twitter.com/OD0UGUeSyn

— RTE One (@RTEOne) March 18, 2018
However, Erin said that taking part in the show gave her the chance to fulfill a lifelong dream.
"I was just so happy for this opportunity, honestly, to get out there and to fulfill a childhood dream to be a 'dancer' as Brian [Redmond] said, that made my night by the way, that was just amazing for me," she said.
The fitness model said that taking part in the dance competition has taught her a lot about herself.
"I went in there like a nervous wreck, definitely being stuck at home in a rut and didn't even realise it, afraid to get out there after having a baby and constantly worried about what other people thought of me and allowed other people's opinions to hold me back," she said. 
"After the first dance off I finally let that go and thought 'you know what, it doesn't matter what anyone thinks of you'. So that was probably the biggest thing for me, as well as fulfilling a dream to become some sort of a dancer."
A "very tired" Ryan McShane said, "We are very proud of ourselves and what we've accomplished and the fact that we got to the semi-final. This girl didn't even think she was getting to the second week never mind the semi-final," 
"And she'll be back in the final to dance again so in theory she didn't miss any weeks. And the fact that she was in four dance-offs she would have done the same amount of dances as the finalists. I think she's done pretty good!"
The professional dancer said Erin is his "little mini McGregor" who has "held me up when I've felt down" throughout the competition.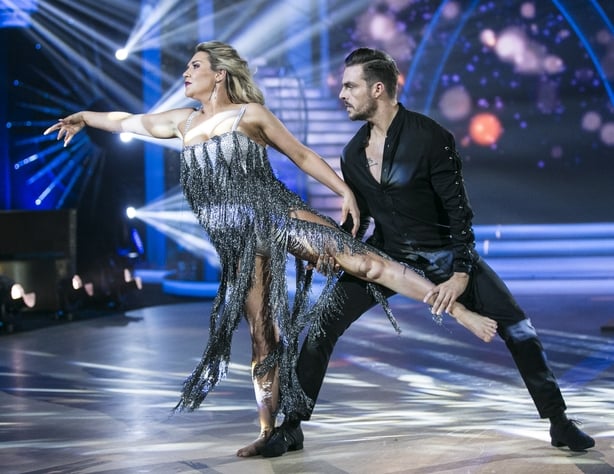 "I also have feelings and emotions through the competition, it's very strenuous on the pro dancers, when you have such a great partner like Erin who says 'alright man I got you' that's a great feeling. We had the best craic and I am sure we will remain friends for at least four days after the final," he said with a laugh.
Erin admitted that she did have a favourite to take home the glitterball trophy next Sunday.
"Jake is an amazing contestant and he's a brilliant dancer and I'm so happy that he made it through [but] I'm slightly biased for the girls. They're my friends, I shared dressing rooms with them, so either one of the girls I'd probably be happy. Sorry Jake!" she said.
Ryan said: "I'm going to go with Kai [Widdrington] and Anna [Geary] because Kai's my best friend. He's a young pro with immense talent, a lovely guy , so I hope that they win.
"Most of all I hope the best dancer wins on the night."
The Dancing with the Stars grand final takes place on Sunday, March 25 at 6.30pm on RTÉ One, with Deirdre O'Kane, Jake Carter and Anna Geary competing to take home the coveted glitterball trophy.
Dancing with the Stars has been drawing in viewers all season, with Sunday night's semi-final attracting an average viewership of 577,000* for the entire two hours, and an audience share of 39%**.  Almost an additional *26,000 tuned it to catch up on RTÉ + One.