Frances McDormand was the star of the Oscars show on Sunday night using her acceptance speech for Best Actress to promote equality in the film industry as she urged her female counterparts to stand alongside her.
McDormand, who won her second Oscar for her role in Three Billboards Ourside Ebbing, Missouri, began her speech by urging someone to pick her up if she fell over as she had "some things to say".
"Okay, so I'm hyperventilating a little bit. If I fall over, pick me up cause I've got some things to say.
After paying tribute to Three Bilboards director and writer Martin McDonagh and the "bunch of hooligans and anarchists" she worked with on the dark comic drama, she addressed the female nominees in the audience.
"And now I want to get some perspective," McDormand said.
"If I may be so honoured to have all the female nominees in every category stand with me in this room tonight, the actors - Meryl, if you do it, everybody else will, c'mon - the filmmakers, the producers, the directors, the writers, the cinematographer, the composers, the songwriters, the designers.
"Okay, look around everybody. Look around, ladies and gentlemen, because we all have stories to tell and projects we need financed.
"Don't talk to us about it at the parties tonight.
"Invite us into your office in a couple days, or you can come to ours, whatever suits you best, and we'll tell you all about them.
"I have two words to leave with you tonight, ladies and gentlemen: inclusion rider"
But what is an inclusion rider? McDormand explained what the on-set diversity clause was in the press room after she delivered her speech.
Frances McDormand explains an inclusion rider backstage at the #Oscars: "You can ask for or demand at least 50% diversity in not only the casting and the crew." https://t.co/EIAHjQyV6Y pic.twitter.com/tJWnhMro0W

— Hollywood Reporter (@THR) March 5, 2018
McDormand's rousing speech was a fitting end to awards season 2018, which saw women lead the charge against sexual harassment and abuse in the entertainment industry with the #MeToo movement and the Time's Up initiative.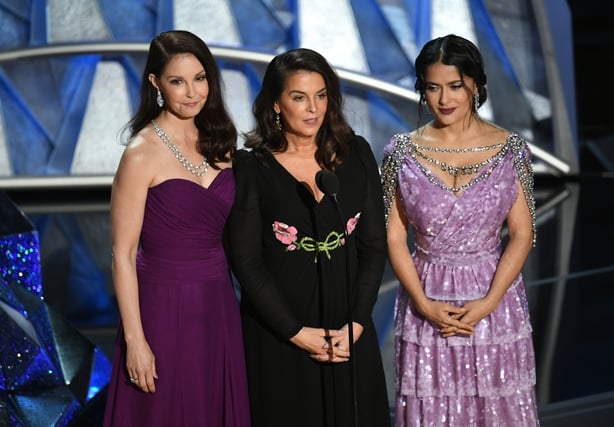 Earlier in the ceremony Ashley Judd, Annabella Sciorra, and Salma Hayek took to the stage to shine a light on these campaigns.
Sciorra said: "This year many spoke their truth and the journey ahead is long...".
Hayek added: "We salute those unstoppable spirits who kicked ass and broke through the biased perception against their gender, race and ethnicity to tell their stories."
A video montage was then shown featured well-known industry figures including Geena Davis, Lee Daniels, Ava DuVernay, Greta Gerwig and Kumail Nanjiani all speaking in support of the women speaking out and telling their stories.
Click here to check out who the big winners were at the Oscars 2018